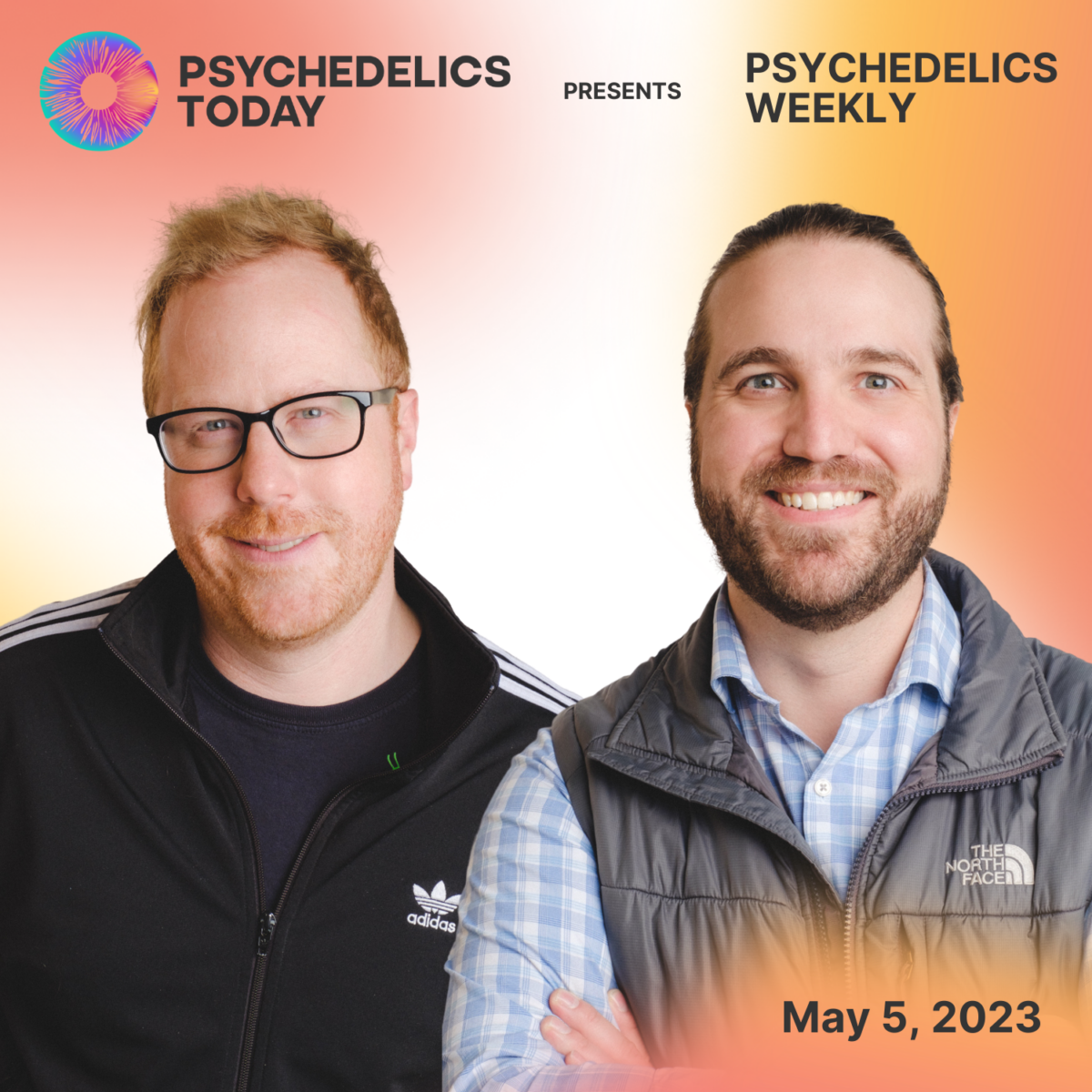 In this episode of Psychedelics Weekly, Joe and Kyle record in-person again, discussing psychedelics and parenthood, sports, music, and more. 
They cover: 
-an Elle (!) article about how mushrooms are becoming the new 'Cali sober,' with more and more people starting to microdose – including parents; 
-ESPN's documentary, "Peace of Mind," highlighting the rise of psychedelic use among athletes, including retired NHL player, Riley Cote;
-An article discussing how interest in psychedelics has skyrocketed in Oregon since the passing of Measure 109, and how over-regulation and the glacial speed of the government is only driving the growth of the black market; 
-An essay attempting to define what it is that leads people to describe music as psychedelic (with several recommendations from Joe); 
-DMT aficionados using AI to create and catalog depictions of the entities they've seen;
and more!
And they have larger discussions about the drug war, how famous athletes are opening people's minds to psychedelics, how strict regulation in psychedelic legislation can create more harm, how we need to collaborate more in the psychedelic space, the concept of a DMT 'hyper-slap,' and the problem of psychedelic exceptionalism and thinking your drug is good while others are bad.
Links
(bolded links are the discussed articles)
Psychedelic Neuroscience Demystified: How Psychedelics Alter Consciousness and Produce Therapeutic Effects
PT403 – Understanding the Brain: Psychedelic Neuroscience Demystified, featuring: Melanie Pincus, Ph.D. & Manesh Girn
Psychedelics Weekly – Breaking Convention, Decolonizing the Psychedelic Space, and How Colorado's Senate Bill 23-290 Will Affect Prop 122 (Kyle and David break down SB23-290)
Psychedelics Today: PT217 – Erika Dyck – Canadian Psychedelic History
Elle.com: Shrooms Are the New Cali Sober
Psychedelics Today: Psychedelics Weekly – Roland Griffiths Faces the End, The NBA Lifts Its Cannabis Ban, and The Rising Popularity of Mushrooms for Moms
Espnpressroom.com: New ESPN E60 Examines Use of Psychedelics in Mental Health Treatment of Athletes
Wweek.com: Oregon's Appetite for Psilocybin Is Being Fed Outside the Law in the Mushroom Underground
Cnn.com: High Profits (available to purchase on Amazon)
The Politics of Experience, by R.D. Laing
Mapsbcorp.com: American Medical Association to Issue First New Code for Psychedelic Therapies
Psychedelicscene.com: What Makes Psychedelic Music Psychedelic?
YouTube: Shpongle – Hammock Therapy
Spotify: The Mars Volta – The Bedlam in Goliath (not their most acclaimed, but it's this show notes writer's favorite, and I think, most psychedelic)
The Beach Boys – Pet Sounds (Joe called it "Animal Sounds"…)
YouTube: The Beatles – Revolution 9 (Remastered 2009)
YouTube: Paul McCartney flipping people off
YouTube: Grateful Dead – Drums/Space – 12/28/1980 – Oakland Auditorium (Official)
Vice.com: DMT Users Are Using AI to Draw the Strange Beings They Meet While Tripping
Women of Visionary Art, by David Jay Brown & Rebecca Ann Hill
Psychedelics Today: Daniel McQueen – DMTx and Future Psychedelic Technologies
Reddit.com: Ever been hyperslapped? What happened?
Joe's tweet about psychedelic exceptionalism
Drug Use for Grown-Ups: Chasing Liberty in the Land of Fear, by Carl L. Hart
Psychedelics Today: PT236 – Drugs: Honesty, Responsibility, and Logic, featuring: Dr. Carl Hart