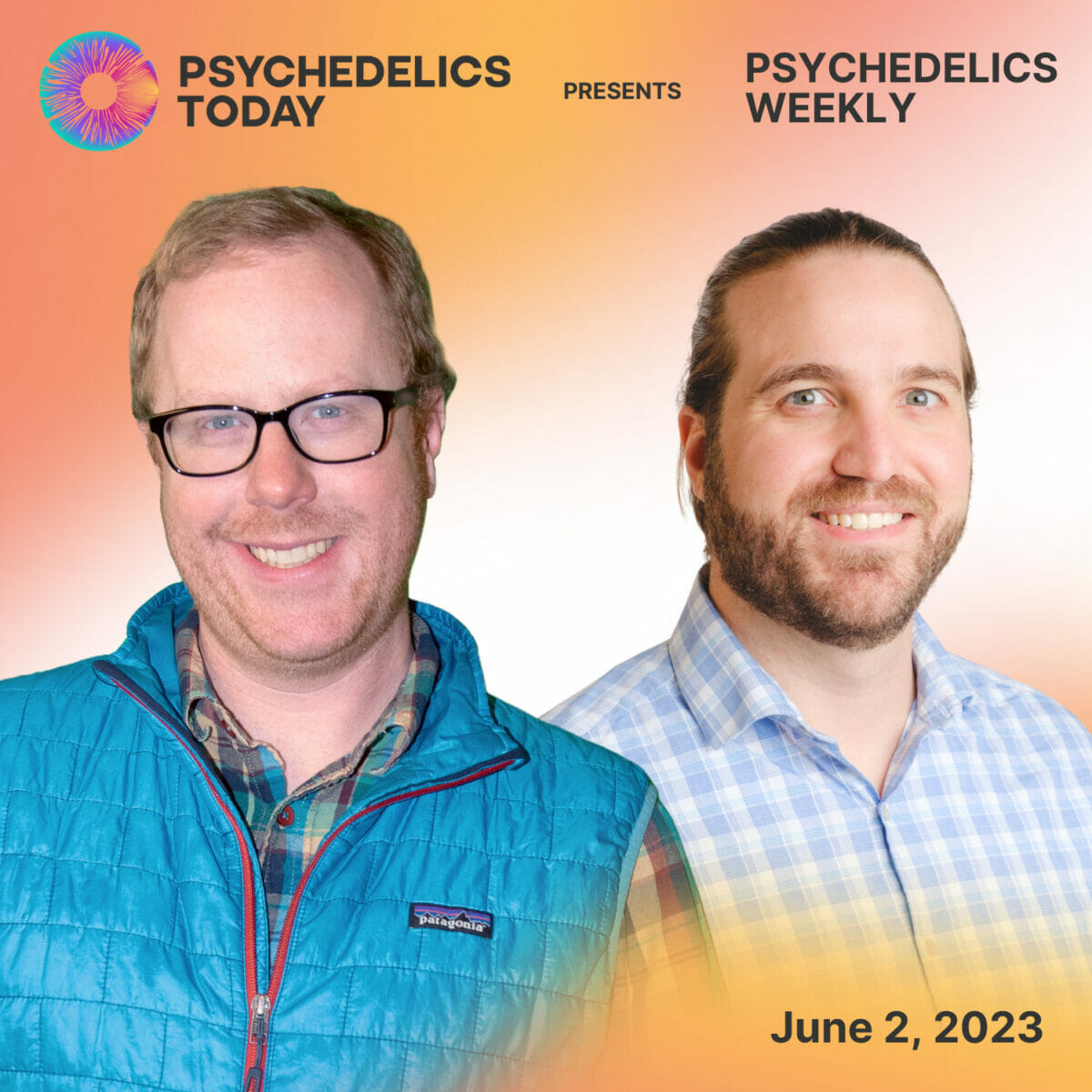 In this episode of Psychedelics Weekly, Joe and Kyle are once again able to take advantage of Kyle's temporary Colorado residency and record together in Joe's office.
While last week focused on the numerous challenges facing a rapidly growing industry of psychedelic therapists, facilitators, and guides, the topic of therapy itself is put under the microscope this week, as they dissect a New York Times article titled, "Does Therapy Really Work? Let's Unpack That." They discuss whether or not therapy is right for everyone, the efficacy of different types of therapy, the role of the therapeutic alliance in treatment outcomes, and how (if it's even possible) to measure all of these factors.
They also discuss:
-a study showing that ketamine was more effective than ECT (electroconvulsive therapy) for patients with treatment-resistant depression;
-the potential benefits of the LSD analog, Br-LSD, in treating people with major depressive disorders, cluster headaches, and more;
-Ireland's Health Service Executive launching the Safer Nightlife program, which will partner with music festivals this summer to establish on-site drug testing;
-the U.S. slowly beginning to legalize fentanyl test strips, which, for some reason, are illegal in many parts of the country;
and much more!
See you next week, and if you're in the NYC area, make sure to check out "Tales of Transformation," an in-person event Thursday, June 8 at the Athenæum, moderated by David, and featuring Ifetayo Harvey, Juliana Mulligan, and Raad Seraj.
Links
(bolded links are the discussed articles)
Navigating Psychedelics For Clinicians and Wellness Practitioners (the next edition begins July 12 and 13)
Psychedelicscience.org (use code PT15 for 15% off tickets)
Joe's IG live with Global Psychedelic Society
California Psychedelic Conference: June 3-4 in Los Angeles
Nytimes.com: Does Therapy Really Work? Let's Unpack That.
Wiley.com: The efficacy of psychotherapies and pharmacotherapies for mental disorders in adults: an umbrella review and meta-analytic evaluation of recent meta-analyses
Psychiatryonline.org: Effect of a Layperson-Delivered Telephone Program for People With Depressive Symptoms
The Cato Institute: Jeffrey A. Singer
Forbes.com: New York City's Psychedelic Athenæum: A Place To Find The Others
Psychedelics Today – Tales of Transformation: Thursday, June 8, at the Athenæum, 7:00 – 9:30pm EST
Gizmodo.com: Ketamine Might Be on Par With the Gold Standard for Treatment-Resistant Depression, Study Finds
Psychologytoday.com: A Beneficial Psychedelic That Does Not Cause Hallucinations
Psychedelics Today: PT369 – Chronic Pain and Phantom Limb Pain: Could Psilocybin Be the Answer?, featuring: Timothy Furnish, MD & Joel Castellanos, MD
Psychedelics Today: PT245 – Robin Carhart-Harris – Psychedelics, Entropy, and Plasticity
Neurosciencenews.com: How Neurons That Wire Together Fire Together
Psychedelics Today: PT409 – Pathology, The DSM, and The Ontological Shock of Psychedelic Experiences, featuring: Erica Rex & Mona Sobhani, Ph.D.
Irishmirror.ie: Drug testing to be rolled out at music festivals in Ireland this summer
Everydayhealth.com: Fentanyl Testing Strips Are Illegal in Many States — but That's Changing
Time.com: How Conservatives Are Changing Their Mind on Legalizing Fentanyl Test Strips
Alchemically Stoned: The Psychedelic Secret of Freemasonry, by P. D. Newman