In this episode, David interviews Kevin Balktick: Founder and Director of Horizons; one of the world's longest-running psychedelic media, education, and communities – who we all know for their yearly Horizons conference in New York City. 
Fifteen years in, Horizons is making its way West with their first conference outside of NYC; September 15-18 at the Portland Art Museum in Oregon. Balktick talks about what led to the creation of Horizons in 2007, why he seeks out old buildings with history, and why it's become necessary to have a second conference in Oregon now that the state is about to forever be changed by the Oregon Psilocybin Services Act (aka Measure 109). Onlookers may think it's about expansion and combating the government, but to him, it's really about responsibility towards making sure that the community works together (and addresses what needs addressing) to get this pivotal moment right. 
He also talks about Horizons New York (October 12-13 at The New York Academy of Medicine and The Great Hall at The Cooper Union); The Oregon Health Authority; why psilocybin is making the biggest waves in psychedelics; David Nutt's paper on "Equasy"; Horizons' scholarship system; how conferences don't reflect the real demographic of their surrounding communities; and the importance (and life-changing possibilities) of gathering together in three dimensions.

And reminder that we are able to offer discounts on Horizons to ether event! For Horizons Northwest, use code PSYCHEDELICSTODAY-NW-17 at checkout for 17% off, and for Horizons New York, use PSYCHEDELICSTODAY-NY-15 at checkout for 15% off. Joe and Kyle will be at Horizons Northwest and hope to see you!
Notable Quotes
"The venue is kind of part of the message that you can't necessarily escape, so the selection of venues and the messages they communicate are a big part of the set and setting. Although it would be a lot easier in many ways, I've just never desired to have Horizons be at a hotel with the carpet and acoustic tile ceilings and so on and so forth. I've always wanted to be in somewhere that has history and has its own kind of character and dignity."
"I have heard this again and again from people who were not sure whether they really wanted to risk their career by becoming publicly associated with psychedelics and then they went to Horizons or another similar conference and they could suddenly feel the strength and the confidence to do so. …All of those were people who had read journal articles, magazine articles, [and] watched videos galore. It is doing the fundamental human thing and being in a place with other human beings – that's what really created change in people's lives, and it was important that those things happened publicly and not at some private event with only a handful of people who are allowed to be there."

"When someone wants to bring someone to Horizons that is not already a part of this community and may harbor some skepticism; that's a real relationship of trust, especially when it's a family member, and someone is kind of implicitly saying, 'I believe in this and the way you present it so well that I trust my family relationships with this community and with this event and with what's being said on stage' – that is the compliment I really, really am deeply honored and humbled to receive."
Links
Horizons Northwest: September 15-18, 2022, Portland Oregon (Use code PSYCHEDELICSTODAY-NW-17 at checkout for 17% off)
Horizons New York: October 12-16, 2022, New York City (Use code PSYCHEDELICSTODAY-NY-15 at checkout to receive 15% off)
The New York Academy of Medicine
The Great Hall at The Cooper Union
Naturalmedicinecolorado.org: The Natural Medicine Health Act
Journals.sagepub.com: Equasy – An overlooked addiction with implications for the current debate on drug harms
Psychedelics Today: PT278 – Ayize Jama-Everett, Courtney Watson, Leticia Brown, and Kufikiri Imara – A Table of Our Own
Vimeo.com: "Covid-19, Black Lives, and Psychedelics"
About Kevin Balktick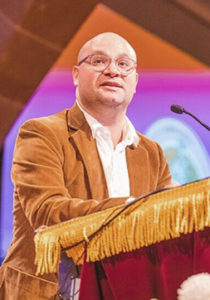 Kevin Balktick is the founder + director of Horizons, one of the world's longest-running psychedelic media, education, and community institutions. He convened the first Horizons conference in 2007 in New York City out of a desire to change the public narrative around psychedelics and strengthen its community, and has guided the organization's growth over the last 14 years. In addition to his work in Horizons, Kevin has been a prolific producer and creative director of arts and culture projects in New York City. His work has been featured in The New York Times, National Public Radio, The New Yorker, The Washington Post Magazine, Vogue, WWD, Vice, Hospitality Design, NHT (Japan), The Guardian (UK), Ha'aretz (Israel), and other publications.
Horizons socials: Instagram / Facebook / Twitter
---
​Rate, review, and subscribe on Apple Podcasts, Spotify, Stitcher, Google Podcasts, or anywhere you like to listen.


Support the show!