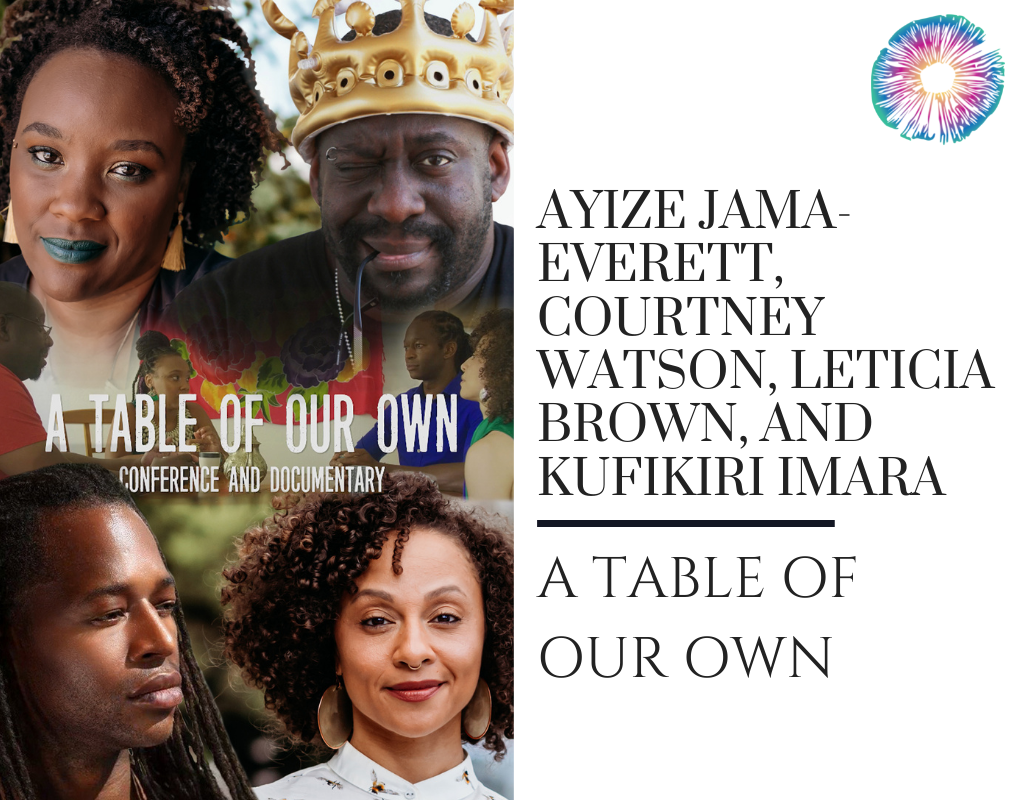 Culture
PT278 – Ayize Jama-Everett, Courtney Watson, Leticia Brown, and Kufikiri Imara – A Table of Our Own
December 21, 2021
In this episode of the podcast, Joe sits down for the very rare multi-guest podcast, this time with four: teacher and author, Ayize Jama-Everett; LMFT, certified sex therapist, owner and operator of Doorway Therapeutic Services, Courtney Watson; LMFT at Doorway Therapeutic Services, Leticia Brown; and activist and facilitator, Kufikiri Imara.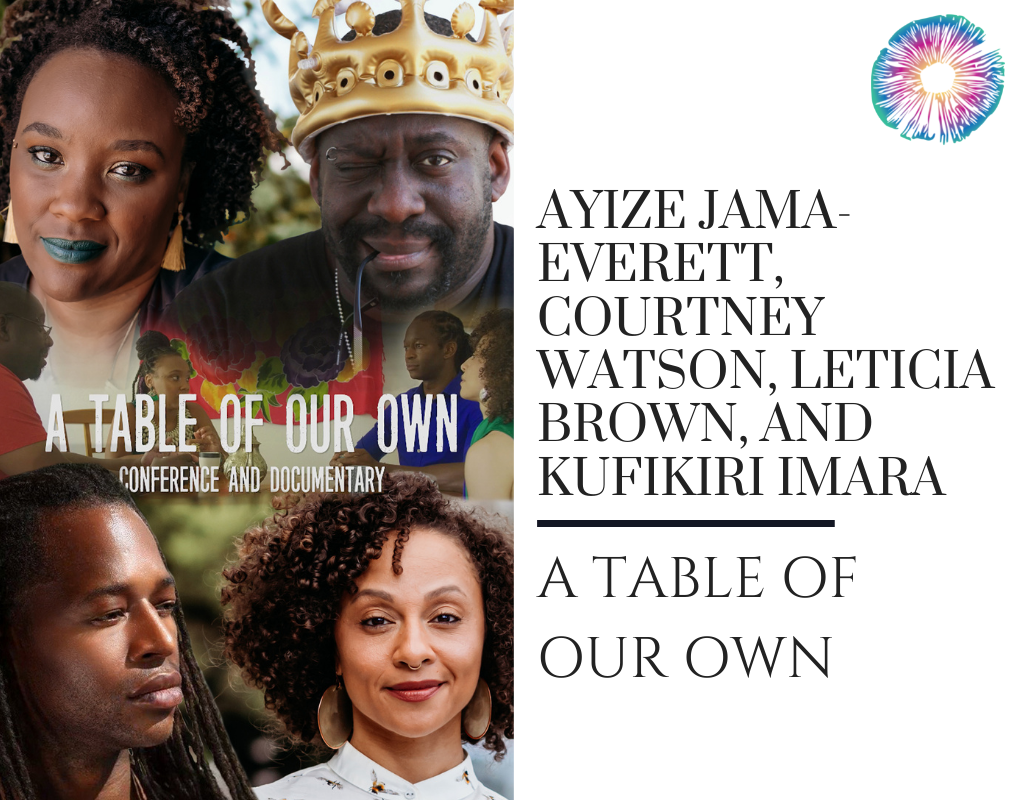 Subscribe
Share
In this episode of the podcast, Joe sits down for the very rare multi-guest podcast, this time with four: teacher and author, Ayize Jama-Everett; LMFT, certified sex therapist, owner and operator of Doorway Therapeutic Services, Courtney Watson; LMFT at Doorway Therapeutic Services, Leticia Brown; and activist and facilitator, Kufikiri Imara.
The group has come together to create A Table of our Own: a for-Black-people by-Black-people psychedelic conference and corresponding documentary. While noticing how often it seemed members of the BIPOC community were being used to check off a diversity box for grant money, they decided that before they were another guest at someone else's table, it was time for them to gather at their own table and figure out exactly what they want out of this "so-called psychedelic renaissance" first.
They talk about why a Black conference is needed and what it could look like; how affinity groups create safety; the ease in communication and connection when having shared experience; the problems with modern, performative-based psychiatry; and why it's true that when Black people win, everyone wins. And reflecting on some of the recent abuse allegations, they also discuss abuse in the psychedelic space: how abusers always learn from abusers, how communities learn from the behavior of elders, how guidelines for facilitators and therapists are drastically oversimplified, and how we all need to recognize our own ability to cause harm.
A Table of our Own is happy to take donations, but only if you're in it for the right reasons (i.e. you aren't filling a quota or need your company's banner hanging at the event). And if you're someone who understands affinity groups but the idea of a Black-only event feels like segregation (like many felt when Nicholas Powers talked about a Black Burning Man), definitely check this one out.
Notable Quotes
"There's a lot of 'We want you at our table, we want you at our table,' but as people of color, we're not a freaking monolith. We haven't sat at our table. We haven't shared our stories, the positive and the negative. We haven't collaborated on what's going to do best for our communities. We haven't had those conversations. And so the conference is about: Let's just sit together and talk. Where are we at? How are you feeling? What's going on? What do you need? Do you need a hug? Can you get fed? Can you be comforted? Can I hear your knowledge? Are you willing to share yours? Can we get that back-and-forth going? And then once we have that; well, let's document that, because not everybody's going to be able to come to this. What we need to show is: Hey, this is how we do." -Ayize
"For survival purposes, because of the nature of historical precedents, we have to adjust who we are for the environment that we're in for survival, understanding that there are those in the same society that expect the environment to change to them because that is the way things have been set up. So when we're in an environment of a Black experience of people of the African diaspora, understanding that that's not something we have to do in that space (like the others said, around being policed and thus having to police themselves); there's a uniqueness around that." -Kufikiri
"The harm comes in in ways of presenting itself as some authoritative model around good and bad, right and wrong; yet misses so much of the harms that exist in society that are navigated by those in marginalized communities (especially those in Black bodies and Western colonial spaces) that don't account for that aspect of someone's identity, but yet is looking to work with someone around what their identity is. So that harm is a very real one. …How do you know your worth and your value in a space if you're always being compared to someone that does not look like you or does not have your experience?" -Kufikiri
"Black folks, when we're in spaces together; we're not all sitting around talking about our trauma. We are often just connecting with each other and laughing with each other and holding each other. So this conference is also a space where we can heal through play and joy and movement and dance and everything about how we navigate the world that brings so much flavor, including the joy. Black joy is a whole other kind of medicine that is always present when we gather." -Leticia
Links
Instagram: @doorwaytherapeutics
Instagram: @kufikirihiariimara
Psychedelics Today: Nicholas Powers Ph.D. – Psychedelics, Race, Where They Intersect, and Where They Don't
About Ayize Jama-Everett, M.Div, M.A., M.F.A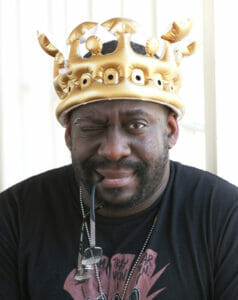 Ayize Jama-Everett (b. NYC 1974) has been in various relationships with plants, substances, and communities since his birth. Born into the Black Power movement's conflicts, Ayize comes from the lineage of the Lincoln Detox project, a community organization in Harlem, New York, that taught the formerly incarcerated to use acupuncture to help with heroin withdrawal. At sixteen, he traveled to Morocco and was taken in by the Gnawa and was privileged to join their rituals. Ayize served as the director of Outpatient services for Thunder Road Adolescent Treatment center for three years before joining Catholic Charities of Treasure Island as the substance use and mental health services manager. He's worked in both abstinence and harm reduction modalities. He also served as a high school therapist for over a decade.
Ayize Graduated from the Graduate Theological Union in 2001 with a Master's of Divinity. His thesis was on the spiritual use of substances among the homeless youth of Morocco, London, and the Bay Area. Soon after, he began teaching the Course "The Sacred and the Substance," one of the first survey courses of sacred plant use at the Graduate Theological Union. In 2003, Ayize received a Masters degree in Clinical psychology from New College of California. In 2019, he received a Masters in Fine Arts, Creative Writing, from The University of California, Riverside. He is the author of four books, and his shorter works can be found in The L.A. Review of Books, The Wakanda Dream labs, The Believer, and Racebaitr. As an African-American male, Ayize's focus has been consistently on underrepresented communities in the sacred plant community.

About Courtney Watson, LMFT
Courtney Watson is a Licensed Marriage and Family Therapist and AASECT Certified Sex therapist. She is the owner of Doorway Therapeutic Services, a group therapy practice in Oakland, CA focused on addressing the mental health needs of Black, Indigenous & People of Color, Queer folks, Trans, Gender Non-conforming, Non binary and Two Spirit individuals. Courtney has followed the direction of her ancestors to incorporate psychedelic assisted therapy into her offerings for folks with multiple marginalized identities and stresses the importance of BIPOC and Queer providers offering these services. Courtney has received training from the Center for Psychedelic Therapies and Research at CIIS, MAPS and Polaris Insight Center to provide psychedelic-assisted therapy with a variety of medicines.
She is deeply interested in the impact of psychedelic medicines on folks with marginalized identities as well as how they can assist with the decolonization process for folx of the global majority. She believes this field is not yet ready to address the unique needs of Communities of Color and is prepared and enthusiastic about bridging the gap. She is currently blazing the trail as one of the only clinics of predominantly QTBIPOC providers offering Ketamine Assisted Therapy in 2021. She has founded a non-profit, Access to Doorways, to raise funds to subsidize the cost of ketamine/psychedelic-assisted therapy for QTBIPOC clients (now accepting donations for our first 100 recipients!!).
About Leticia Brown, LMFT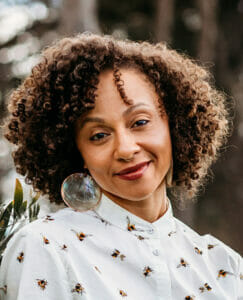 Leticia Brown (she/her/hers) is a Licensed Marriage and Family Therapist and Black queer femme whose practice engages various healing modalities at the intersections of harm reduction, sexuality and social justice. She prioritizes work with BIPOC & QTNBIPOC communities through a liberatory lens that values communual interdependence and affirms the inner healer we all hold within. Constantly exploring ways to decolonize her relationship to healing, she incorporates intergenerational exploration, spirituality, ritual, the use of the body, and reconnection to intuition in her practice, and sees her role as co-creator with those she walks beside on their healing journeys.
Leticia has been trained in a variety of Psychedelic-assisted Therapy modalities, including Ketamine-assisted Psychotherapy trainings with Sage Institute, Polaris Insight Center, Healing Realms and Doorway Therapeutic Services, where she maintains a small private practice. Leticia was also a trainee of MAPS' first-ever MDMA-Assisted Psychotherapy Therapy Training for Communities of Color, in August of 2019. Additionally, she is a therapist with the MAPS expanded access program, using MDMA-assisted psychotherapy for treating severe PTSD. In her harm reduction consulting and training, Leticia encourages both self-introspection and challenging discourse. In her work supporting therapists with engagement of anti-racist and decolonizing practices, she aims to offer a sense of groundedness and purpose to the work. In her work with clients and therapists around issues of sexuality and (other) altered states of consciousness, she holds a sociopolitical lens, and aims to cultivate a safe relationship to the body. In all of this work, Leticia aims to be guided by Fannie Lou Hamer's mantra that "Nobody's free until everybody's free", particularly in her work with QTBIPOC folx.
About Kufikiri Imara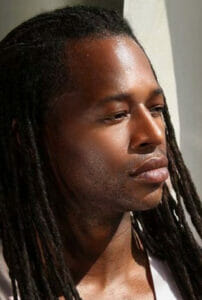 Kufikiri Imara was born and raised on Huichin territory of the Ohlone people (Oakland, California). With parents that were involved in the Civil Rights and Black Power movements of the 1960s and 1970s, he grew up in a family and community that strongly emphasized cultural awareness and social responsibility. He volunteered with Green Earth Poets Society in NYC, bringing poetry to incarcerated African-American youth. He was an early member of the Entheogen Integration Circle in NYC, supporting marginalized communities. He is a friend of Sacred Garden Community as a facilitator. A former member of the Decriminalize Nature Oakland grassroots collective, he went on to head the DNO committee on Outreach, Education, Access, & Integration. He lent his voice to the Horizons Media documentary film "Covid-19, Black Lives, & Psychedelics." He also facilitates a BIPOC Entheogen Integration Circle with the San Francisco Psychedelic Society. Kufikiri Imara is a voice championing the important issues of access, education, and inclusion within the larger psychedelic community.


Support the show!