In this episode, David interviews Susan Beaulieu: Anishinaabe citizen of the Red Lake Nation, Ph.D. student, podcaster, and Extension Educator at the University of Minnesota Extension. She works with Indigenous communities primarily around intergenerational trauma and strengthening community resilience.
She gives some history of the Red Lake Nation, discussing the impact of boarding schools on their community and how the government attempted to assimilate children to a Western way of life, and how an ayahuasca session made her realize the power (and prevalence) of intergenerational trauma. She talks about how language shapes reality and the risk of losing Indigenous language, how psychedelics could help her community remember its traditions, and the need to insert important aspects of their culture into the healing process and integration work. She wonders: How do they create pathways beyond what is being explored in our current Western model that tribal leaders would be on board with? Does tribal sovereignty mean they have a legal right to try these new medicines? And how do they best keep tradition alive while embracing a whole new paradigm?
She also discusses mind-body medicine and soft belly breathing; the interconnectedness of all of our parts; the importance of truly feeling your "bad" emotions and embracing the flow of energy; how feeling someone else's healing can be invigorating; and how culture is not just what you do, but how (and why) you do it.
Notable Quotes
"When we think about epigenetics, it's not just the trauma that gets passed on. Epigenetics is about survival, so it's also the resilience and the knowledge of our ancestors that gets passed on. So how do we, as Indigenous people, really tap into that again? I think the more that we're able to heal, the more we're going to be able to."
"It's one thing if a trauma befalls a family within a community that has all of those supports, because the rest of the community is able to come around and help support that family or individual. But when the attack is happening across the entire community and those practices are made illegal and the children are taken, who holds the space?"

"To me, culture isn't just the activities you do, but it's how you do the activities that you do."
"As sovereign nations, we should have the ability to choose how we heal, when we heal, all of those pieces. And that should not be determined by anybody outside of our community, especially the governments that inflicted the harm in the first place. That really should be up to our communities to decide when and how and all of that, and, resources should be coming to our communities to help us do that. As many resources as went into our communities to try and dismantle and tear our communities apart; just as many resources should go back into helping our communities to be able to access healing in the ways that we see appropriate."
Links
Pharmacy.umn.edu: Susan Beaulieu
Remembering Resilience Podcast
The Center For Mind-Body Medicine
Historymatters.gmu.edu: "Kill the Indian, and Save the Man": Capt. Richard H. Pratt on the Education of Native Americans
Psychedelics Today: PT286 – Joe Tafur, MD – Vital Psychedelic Conversations
About Susan Beaulieu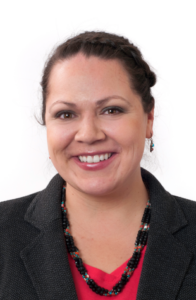 Susan Beaulieu is an Anishinaabe citizen of the Red Lake Nation and has been working with Indigenous communities for the past 15 years in a variety of capacities including project development, training, and facilitation. She previously served as the Director of Tribal Projects at Minnesota Communities Caring for Children (MCCC) where she developed and implemented the Tribal N.E.A.R. Sciences and Community Wisdom Project. Susan has worked the past three years for the University of Minnesota Extension as an Extension Educator, providing resources and support to tribal nations and communities around the state on topics including trauma and toxic stress, ACEs (adverse childhood experiences), epigenetics, neuroscience, resilience, and healing. She is pursuing her Ph.D. in Social and Administrative Pharmacy at the University of Minnesota-College of Pharmacy and received her Master's in Public Policy degree from the University of Minnesota's Hubert H. Humphrey Institute. Susan was a 2016 Bush Leadership Fellow focused on learning about generating healing and wellbeing at the individual and collective levels. She is a mother of four and resides with her family in central Minnesota.
Socials: Linkedin
---
​Rate, review, and subscribe on Apple Podcasts, Spotify, Stitcher, Google Podcasts, or anywhere you like to listen.


Support the show!