In this episode, David interviews Monnica Williams, Ph.D.: licensed clinical psychologist, Associate Professor at the School of Psychology at the University of Ottawa, Clinical Director of the Behavioral Wellness Clinic in Connecticut, and fairly regular conference speaker. 
In this in-person conversation recorded at the From Research to Reality conference (which she co-founded), she discusses her primary focus: the mental health impact communities of color face as a result of racism (both active and intergenerational); and what therapists, clinicians, and especially researchers need to do to make mental healthcare more accessible and more attractive to them. Between triggering language in informed consent paperwork, the fact that the tools for measuring trauma weren't developed with racism in mind, and the personal biases of therapists (and defensive walls they often erect around racial issues), there is a lot of work to be done – and it all starts with education and open conversation.
Williams talks about why she moved to Canada; the differences in race relations she's noticed between Canada and the US; why therapists need to be extra careful when dealing with race and psychedelics; internalized racism; the drug war and its intentions; and courses and readings she recommends for learning about anti-racism and for building up the stamina necessary for dealing with the inevitable backlash that comes from trying to help people. She is currently working towards a study on microsoding and racial trauma, a study on MDMA for PTSD due to traumatic immigration experiences, and she's seeking expanded access to psychedelic-assisted psychotherapy for people dealing with racial trauma.
Notable Quotes
"For some strange reason, when it comes to racism, it's almost like this automatic defense system comes up and it's almost like the weapons come out and the therapists are like, 'Well, how do you know that was racism?' and "Well, could they have meant something else?' Or they're like, 'Well, what does this really mean about you?' This is not the direction the conversation should be going if you want the person to feel understood and if you want the person to feel safe, but it's almost like an automatic reaction that people have that's counter-therapeutic." 
"You can't do good therapy with Black and Brown people in America if you don't have some rudimentary understanding and appreciation of the traumatic history that we've experienced. And that's doubly so, doing psychedelic-assisted psychotherapy." 
"I think that the fact that so many people of color feel a little reluctant to get mental healthcare is because most of us kind of know that most therapists don't really understand [us] and the process may be counter-therapeutic. And I think oftentimes, people of color are often looked down upon, and there may be this idea that 'Well, they just don't really understand.' Well, no, I think they do understand, and that's why they don't want to come for therapy, because they've already had bad experiences in other aspects of healthcare and they don't see any reason why it would be any different in mental health." 
Links
Monnicawilliams.com

BewellCT.com

Psychologytoday.com blog: Culturally Speaking: Challenging assumptions about culture, race, and mental health

Ocdtypes.com: New England OCD Institute
Psychedelics Today: Exploring Race-Based Traumatic Stress and MDMA-Assisted Psychotherapy – Dr. Monnica Williams and Dr. Will Siu
Psycnet.apa.org: A clinical scale for the assessment of racial trauma
Psychedelics Today: Natalie Ginsberg – Psychedelic Policy and Advocacy
Sciencedirect.com: Tuskegee Syphilis Experiment
Chacruna.net: Course: Diversity, Culture and Social Justice in Psychedelics
The Cognitive Behaviour Therapist: Being an anti-racist clinician
Psycnet.apa.org: Racial justice allyship requires civil courage: A behavioral prescription for moral growth and change
About Monnica Williams, Ph.D.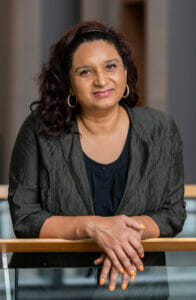 Monnica Williams, Ph.D. is a board-certified licensed clinical psychologist, specializing in cognitive-behavioral therapies. She is an Associate Professor in the School of Psychology at the University of Ottawa, Canada Research Chair in Mental Health Disparities, and Director of the Laboratory for Culture and Mental Health Disparities. She is also the Clinical Director of the Behavioral Wellness Clinic, LLC in Tolland, Connecticut, and she has founded clinics in Kentucky, Virginia, and Pennsylvania. Dr. Williams' research focuses on BIPOC mental health, culture, and psychopathology, and she has published over 150 scientific articles on these topics.

Socials: Facebook / Twitter / Linkedin
The OCD Institute: Instagram
---
​Rate, review, and subscribe on Apple Podcasts, Spotify, Stitcher, Google Podcasts, or anywhere you like to listen.


Support the show!