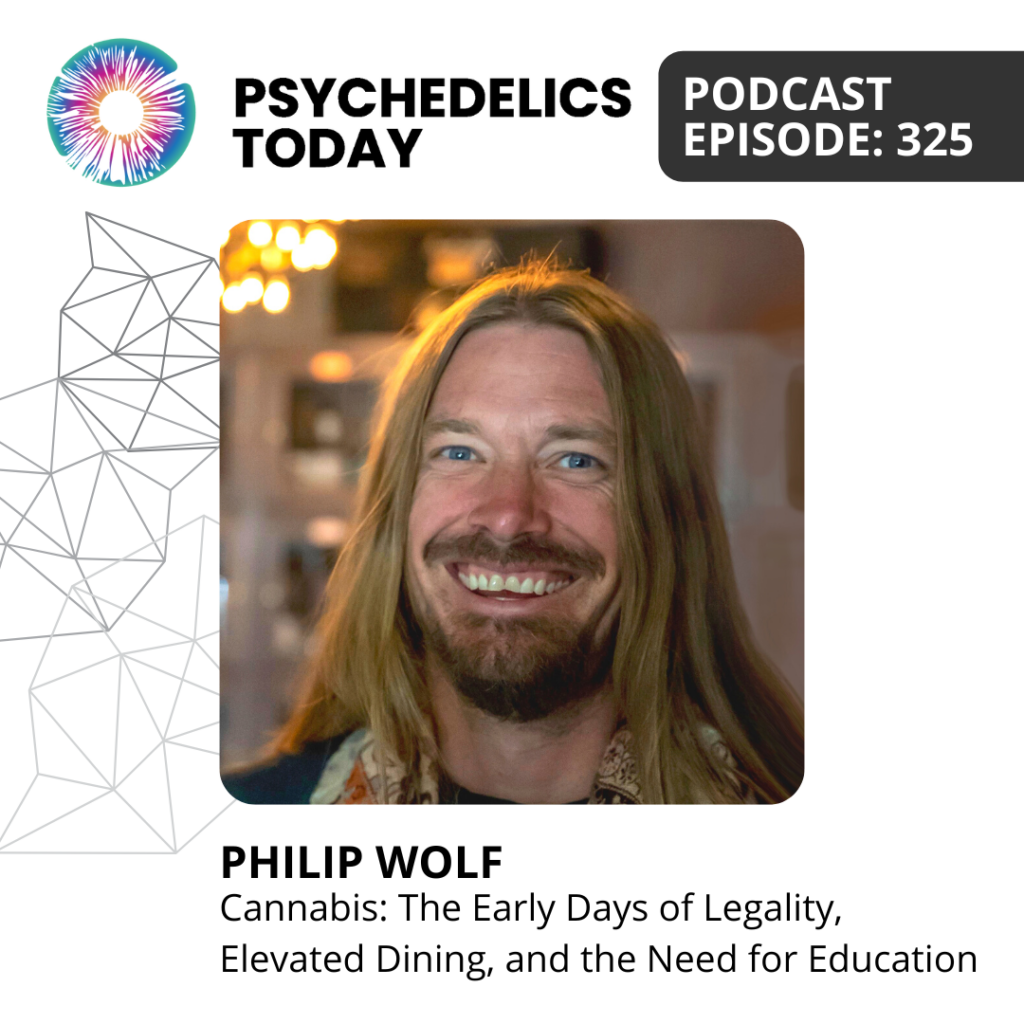 Substances
PT325 – Philip Wolf – Cannabis: The Early Days of Legality, Elevated Dining, and the Need for Education
June 7, 2022
In this episode of the podcast, recorded in-person in Joe's living room, Joe interviews Philip Wolf: Founder of Cultivating Spirits, Co-Founder of the Cannabis Wedding Expo, past guest, and friend whose path in cannabis aligns nicely with that of Joe's with Psychedelics Today.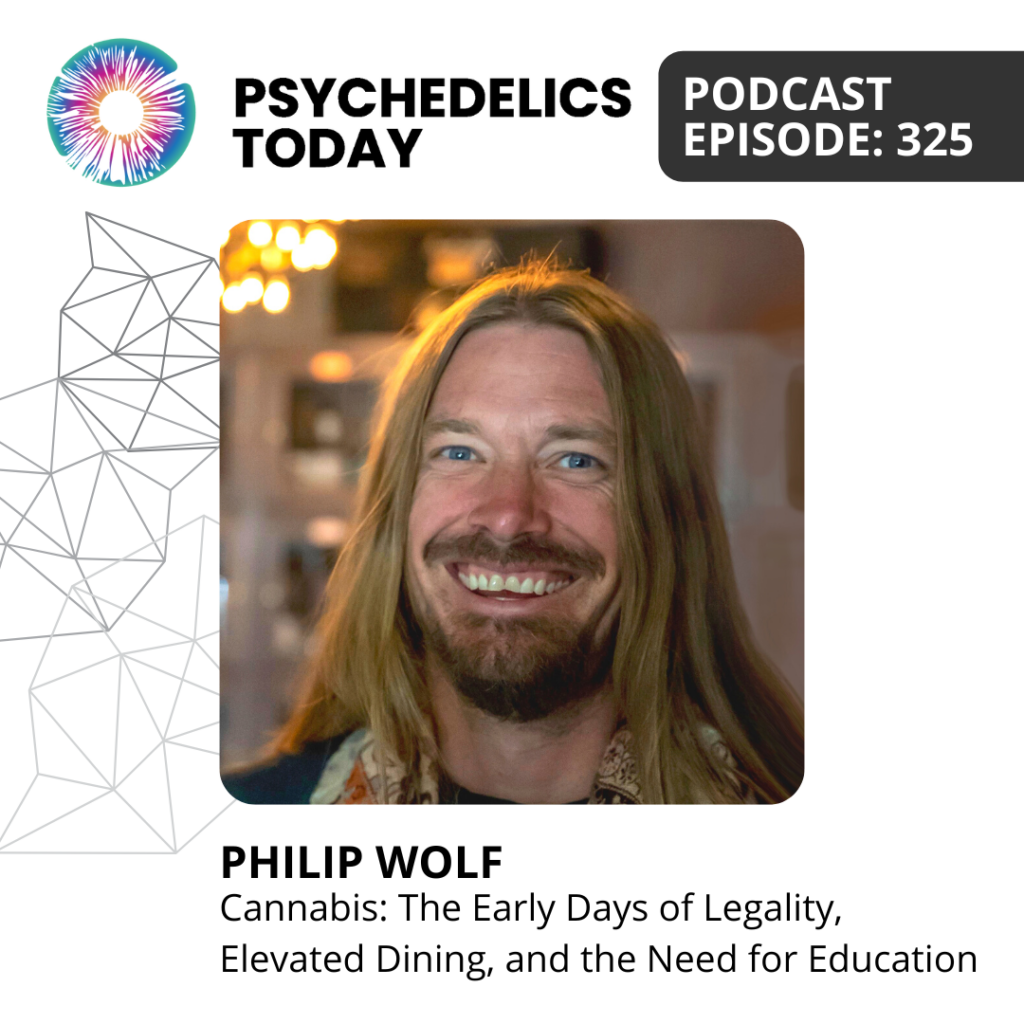 Subscribe
Share
In this episode of the podcast, recorded in-person in Joe's living room, Joe interviews Philip Wolf: Founder of Cultivating Spirits, Co-Founder of the Cannabis Wedding Expo, past guest, and friend whose path in cannabis aligns nicely with that of Joe's with Psychedelics Today. 
Wolf's work in cannabis has largely been in the form of "elevated dining," where participants are treated to an experience similar to what wine aficionados seek out; with dispensary tours, cannabis tasting, and food-pairing. His current project is CashoM: a platform offering education to cannabis consumers, from beginners to connoisseurs, covering everything related to cannabis – from teaching a newbie how to pack a bowl to the science behind terpenes, and everything in between. 
Wolf discusses the free-for-all, wild west early days of recreational cannabis in Breckenridge; similarities between those days and what's happening in Oregon with psilocybin; cannabis as medicine and the reframing of what "medicine" is; his recent appointment to the Rolling Stone Culture Counsel; and the recent "deep dive into winter" he took by staying at a house alone in Wisconsin for 2 months. 
And he talks about some higher concepts: The importance of sitting in a circle with a group, the need for integrity in all things, embracing uncertainty, and why we need challenging trips. There is no one tool, modality, or programmable set, setting, and dose that will work for everyone every time, but he believes the secret to making this all work is to find commonality between each other. Can we all grow enough to make that link a general love for one another?
Notable Quotes
"Right now, we're really limiting the potential of cannabis, and limiting how it can actually affect someone's experience, and how people are connecting with it. And this comes from people trying to create digestible marketing because they feel like that is the route in order to get new consumers on board. But actually, I think, through that, they're actually doing a really big disservice, because people are just pigeonholing cannabis with sleep or anxiety relief or [to] energize. It's just really limiting everything in my opinion. …Having a limited understanding of what cannabis can actually do for your life isn't going to allow people to tap into the true potential of that particular medicine."
"I think there is a wisdom to the medicine. Like, if you feel like you ate too many mushrooms, maybe you were supposed to eat too many mushrooms. …You get provided a lot of things in your life that can lead to a lot of other things, and we don't always have the capability of seeing the importance of that." 
"Hopefully it's a good reality check for a lot of people to understand how we're going to come together to get this right. And it's not my way, it's not Joe's way, it's not your way, it's not this person's way, it's not this company's way, it's not MAPS. It's none of it. All of that together is the only way that this is going to happen."

"When we're going through a bad experience, we grow from it. If we were happy all the time – if we have the happy pill, if we have the happy mushrooms all the time – then there's no point to grow and advance. But if we can push the edge, as we spoke about, then there's that opportunity for growth." 
Links
Rollingstone.com: The Importance of Empowered Cannabis Consumers
Psychedelics Today: Philip Wolf – Terpenes, Social Consumption and the Cannabis Experience
Aspentimes.com: Breckenridge woman featured in CNN's 'High Profits' dies at 26 after car crash
The Ganja Kitchen Revolution: The Bible of Cannabis Cuisine, by Jessica Catalano
Summitdaily.com: Medical marijuana panel discusses benefits of cannabis
Psychedelics Today: PT324 – Amanda Reiman, Ph.D., MSW – Web3, NFTs, Cryptocurrencies, and A Deeper Relationship With Plants
Ritual: Power, Healing and Community, by Malidoma Patrice Some
Psychedelics Today: PT311 – William Leonard Pickard – LSD, Fentanyl, Prison, and the Greatest Gift of All: The Natural Mind
Compasspathways.com: COMPASS Pathways announces positive topline results from groundbreaking phase IIb trial of investigational COMP360 psilocybin therapy for treatment-resistant depression
About Philip Wolf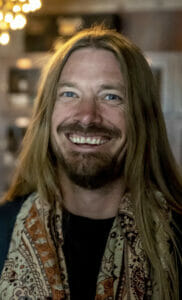 Philip Wolf is grateful to do the work he was born to do: open the minds of the world to the benefits of cannabis, and showcase them in the form of celebration, ritual, and elevated dining. Since then, he's founded Cultivating Spirits, co-founded the Cannabis Wedding Expo, co-founded Hispanola Health Partners (501-c3 non-profit) and is currently creating CashoM, a Cannabis Masterclass program for beginners and connoisseurs. His focus: to bridge the gap between mainstream America and cannabis through education, experience and lifestyle. Philip has been featured on CBS Nightly News, NBC, Business Insider, New York Post, Rolling Stone, Forbes, Time Magazine, Bloomberg, Vice, Entrepreneur, and many more. He's appeared in viral Facebook documentary style videos with over 12 million views, and starred in an episode of the popular television show, "Bong Appetite" on Viceland. Philip was recently honored this year by the Rolling Stone Magazine Culture Council to join its ranks.

Instagram:
Philip Wolf / Cultivating Spirits / CashoM / Hispanola Health Partners  
---


Support the show!