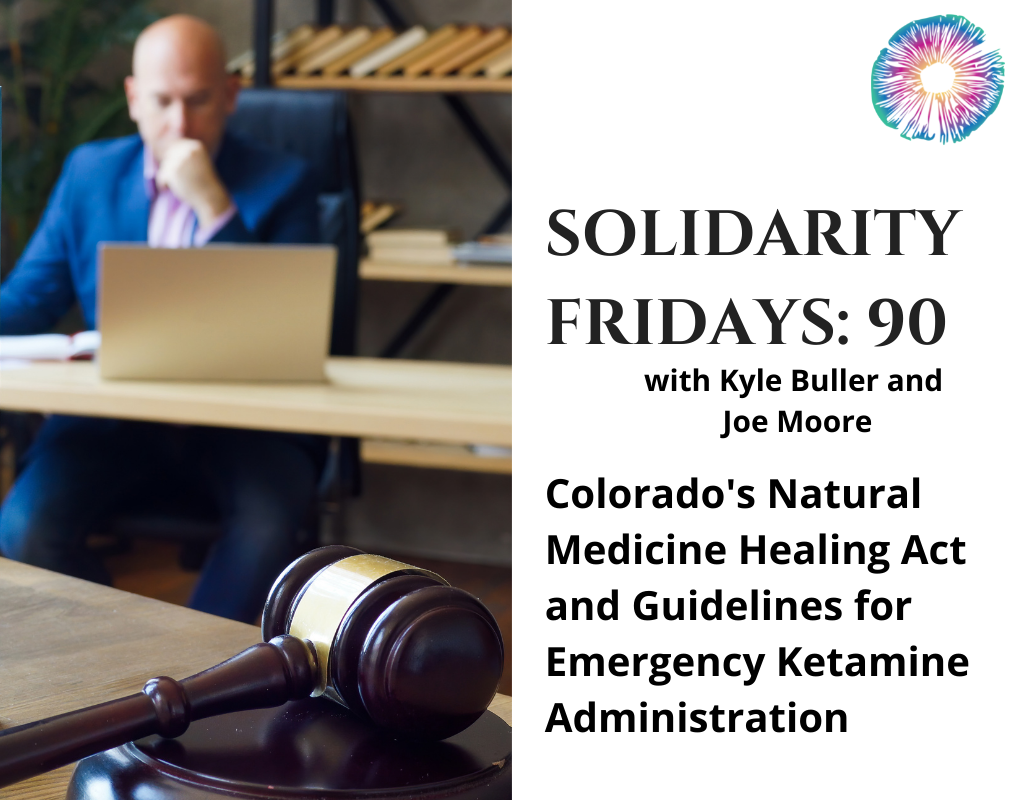 Regulations
PTSF90 – Colorado's Natural Medicine Healing Act and Guidelines for Emergency Ketamine Administration
December 24, 2021
In this week's Solidarity Fridays episode, we tried to have a 2-parter, but like many things in 2021, that just didn't quite go as planned. Hopefully, the Compass Pathways patent analysis (with patent attorney Stefan J. Kirchanski) can be re-recorded for a future episode. Stay tuned…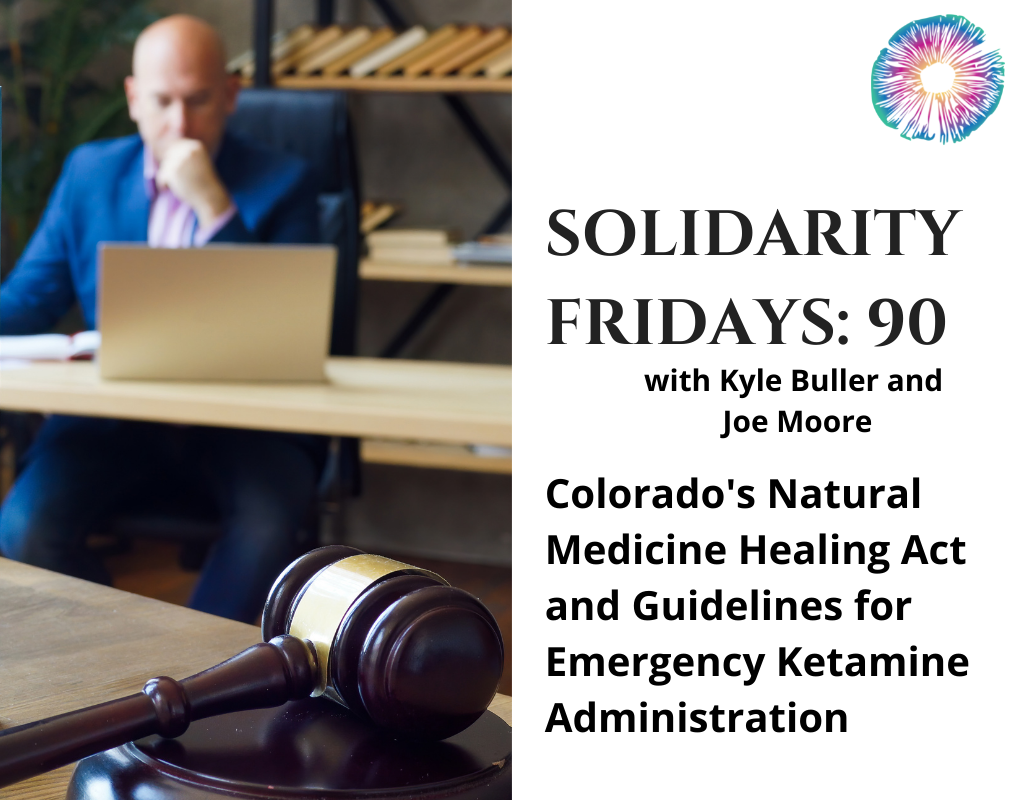 Subscribe
Share
In this week's Solidarity Fridays episode, we tried to have a 2-parter, but like many things in 2021, that just didn't quite go as planned. Hopefully, the Compass Pathways patent analysis (with patent attorney Stefan J. Kirchanski) can be re-recorded for a future episode. Stay tuned…
In the part that was successfully recorded, Joe and Kyle highlight some recent news: most notably the emergence of the Natural Medicine Healing Act, which will allow Colorado voters to decide whether or not to legalize possession and personal cultivation of ibogaine, DMT, non-peyote-derived mescaline, psilocybin, and psilocyn up to 4 grams (of the actual drug, meaning 4 grams of psilocybin, not 4 grams of mushrooms containing psilocybin), as well as establish "healing centers," where adults could receive treatment from trained facilitators.
They then cover the University of Texas' Dell Medical School opening a center to study psychedelics, YouTube user Psyched Substance's recent admission that his drug use had gotten out of hand and he has quit everything, and Colorado health leaders working to establish specific guidelines around how police, paramedics, and EMTs handle ketamine – which obviously needs to happen after Elijah McClain's 2019 death from being forcibly given entirely too much.
Also discussed: drug exceptionalism, Carl Hart, Run Ronnie Run!, and how much having family involved in ketamine-assisted therapy could help with the process (even if they have absolutely no understanding of it).
Notable Quotes
"Yes, decriminalizing psychedelic compounds is a step in the right direction. To me, it's not a holistic step, because we're still putting people in jail." -Joe

"We do need situations like this with really weird drugs like ketamine. …Are the authorities using it properly? And I think this is a good sign that, in some cases, even though it's years late, we can improve drug policy." -Joe
"You have this massive transcendent experience. Who's to say your friends, family, and people you're around are going to have any way to relate to that, especially a way that's positive for you?" -Joe
Links
Marijuanamoment.net: Activists File Colorado Ballot Initiatives To Legalize Psychedelics And Establish 'Healing Center' Program
Drug Use for Grown-Ups: Chasing Liberty in the Land of Fear, by Dr. Carl L. Hart
​​Chasing the Scream: The First and Last Days of the War on Drugs, by Johann Hari
Update: Man Jailed for Joint Set Free (Joe, he's been set free!)
Huffpost.com: This Man Is Serving More Than 13 Years In Prison Over Two Joints' Worth Of Marijuana
Statesman.com: Dell Medical School starts center to study psychedelics for mental health treatments
Psyched Substance YouTube: My Family Left Me. I Was WRONG About Psychedelics.
9news.com: State panel makes recommendations for safe ketamine usage
9news.com: Two paramedics each face 11 charges in connection with the death of Elijah McClain.
Psychedelics Today: PTSF88 – Dr. Ben Sessa of Awakn Life Sciences + Josh Bartch of Mydecine Innovations Group
---


Support the show!