Australia recently achieved a world first, becoming the first country to officially recognise the medicinal and therapeutic uses of psilocybin and MDMA. While this change can seem like it's come out of nowhere, it's actually the result of the explosion of activity around psychedelics in Australia over the past decade. Only a short time ago, we were under the radar. Now, we'll likely be one of the first countries where patients can receive psychedelic-assisted therapy without being part of a clinical trial.

So, whether you're currently in Australia, or just thinking of moving here, a career in psychedelics is suddenly more of a possibility. If you're thinking of pursuing this path in Australia, there's lots you need to know to navigate psychedelics here. What is or isn't legal? Who are the critical nonprofits and corporations? Which universities are pursuing psychedelic research?
Where are Psychedelics Legal in Australia?
The short answer: Nowhere, except in minimal circumstances.

In most cases, classic serotonergic psychedelics are classified in the Poisons Standard as Schedule 9 – Prohibited Substances by the Therapeutic Goods Administration (TGA). Ketamine slides into Schedule 8 – Controlled Substances, due to its extensive medical applications, though it's worth noting that using it to treat depression is still considered "off-label" here. This off-label use is technically legal, but a 2015 controversy over clinics that allegedly skimped on psychiatric supervision and sent patients home to self-inject their ketamine doses has led to relatively few psychiatrists offering this service.

In February, the TGA announced that psilocybin and MDMA will be added to Schedule 8, permitting their use as Controlled Drugs, but only allowed to be prescribed by specialist psychiatrists under the following conditions: they must have approval from a Human Research Ethics Committee (HREC), and they must be authorized by the TGA under the Authorised Prescriber Scheme to prescribe the substances for these conditions.

Psilocybin will be permitted only for treatment-resistant depression (TRD) and MDMA will be permitted only for post-traumatic stress disorder (PTSD).

This means that the therapeutic use of MDMA and psilocybin will remain illegal, unless it's occurring under the specific circumstances the TGA decision describes. For all other uses, they will remain in Schedule 9 (Prohibited Substances). Therapy using other psychedelics such as LSD, mescaline or novel analogues will remain strictly limited to research trials.

The importation of psychedelics is tightly controlled and only allowed for approved legal research. A range of federal laws for serious drug offenses carry significant custodial sentences. For example, being convicted of trafficking or importing a "marketable quantity" (250 grams – 2 kilograms) of N,N‑Diethyltryptamine (DMT) can result in a maximum penalty of 25 years imprisonment and/or a fine of around $1.11 million AUD.

Most day-to-day drug law is dealt with at the state/territory level in Australia, which generally reflects federal scheduling. This means using, possessing, growing, manufacturing, and selling psychedelics is generally illegal. The one exception is found within the Australian Capital Territory (ACT), which recently decriminalized possession of small amounts of most drugs, including most common psychedelics. This doesn't override federal law, and the federal government could seek to resolve any conflict in the High Court, but are unlikely to in the short term.
Australian Psychedelic Organizations
If you want to be across the breadth of psychedelic activity and experience in Australia, you need to start with the organizations in the field: Understanding who they are, how they relate to each other, and what communities they connect with is essential to navigating psychedelics here.
Psychedelic Charities & Nonprofits
Australian Psychedelic Society
Founded in Melbourne in 2017, the Australian Psychedelic Society is a grassroots and community-led not-for-profit. Through events such as picnics, film screenings, integration circles, and workshops, they aim to provide connection, education, and harm-reduction information relevant to psychedelic communities. The Australian Psychedelic Society also advocates for drug law reform, including decriminalization, recently putting their case to the federal Joint Committee on Law Enforcement and planning a range of advocacy activities centered around upcoming elections.
Entheogenesis Australis (EGA)
Entheogenesis Australis is a charity using education to help grow the Australian ethnobotanical community and its gardens. EGA hosts various events around entheogenic and psychoactive plant and fungal medicines, most notably the biennial EGA Symposiums, now known as Garden States. Since 2003, they've been encouraging knowledge-sharing on botanical research, conservation, medicinal plants, arts, and culture. Attending EGA events is the most effective (and fun) way to connect with the key individuals and organizations in the field here.
Mind Medicine Australia
Mind Medicine Australia (known, somewhat confusingly, as MMA) is a charity founded to support clinical research and work towards regulatory-approved and evidence-based psychedelic-assisted therapies. Mind Medicine Australia doesn't advocate for the recreational or non-clinical use of psychedelics. Nor do they advocate for any changes to the law concerning non-clinical use, including decriminalization.

Through their for-profit subsidiary, Mind Medicine Institute, MMA supplies what was, until recently, Australia's only training program around psychedelics, the Certificate in Psychedelic Assisted Therapies (CPAT).
Psychae Institute
The newest kid on the block, Psychae is a not-for-profit organization dedicated to developing new psychedelic therapies as approved medical treatments for mental disorders and other diseases, as well as supporting psychological well-being.
Psychedelic research in Science and Medicine (PRISM)
Psychedelic Research in Science & Medicine (PRISM) is a charity established in 2011 to undertake and support research into the applications of medicinal psychedelics and related therapies. Currently Australia's leading psychedelic research organization, they partnered with Dr. Margaret Ross at the St Vincent's Hospital, Melbourne, for an end-of-life psilocybin trial, and are presently involved with Australia's first MDMA trial.
Australian Multidisciplinary Association for Psychedelic Practitioners
The Australian Multidisciplinary Association for Psychedelic Practitioners (AMAPP) was formed in 2023 to be Australia's peak body for psychedelic-assisted therapy (PAT). AMAPP is working to provide a framework for the safe, ethical, accountable, and effective introduction of PAT, focusing on achieving the best client outcomes. They are also working towards a searchable and verified register of credentialed psychedelic practitioners.
Psychedelic Companies
New psychedelic-related companies and businesses are emerging in Australia every day. This is just a selection of some of the better-known ones.
Enosis Therapeutics
Through their Virtual Reality Psychedelic Psychotherapy (VRPP) protocol, Enosis aims to help therapists guide patients through all stages of their psychedelic healing journeys. Preliminary results suggest that their bespoke VR scenarios are a positive addition to the psychedelic-assisted therapy process, with hopes that these will be confirmed by future clinical trials.
Little Green Pharma
Perth-based Little Green Pharma is a cannabis company that's recently moved into the psychedelic space, announcing in late 2021 that it had received a license from the Western Australian Department of Health to grow psilocybe mushrooms and supply psilocybin for researchers in Australia. It's also pursuing psilocybin research through its subsidiary, Reset Mind Sciences.
Pyslo
Using computational chemistry, Psylo is focused on developing next-generation therapeutic psychedelics, including short-acting and sub-perceptual substances. Partnering with UNSW and the CSIRO and having attracted considerable funding, this company is one to watch.
Psychedelic Institute Australia
Psychedelic Institute Australia (PIA) is a new organization whose mission is to offer the highest quality psychedelic-assisted therapy training and education to therapists and clinicians in Australia. PIA was founded by a team that includes some of Australia's foremost psychedelic researchers and clinicians, and aims to use their experience working in psychedelic clinical trials to provide theoretical and practical training for practitioners at varying levels of knowledge & development.
Australian Psychedelic Research
A few years ago, there were barely a handful of psychedelic researchers at universities here. Australia was characterized as "falling behind" international psychedelic research. Now, it would be easier to list the places that don't have some involvement in psychedelic research.

Notable university researchers include: Dr. Stephen Bright at Edith Cowan University, who is running our first MDMA trial and is founding member of PRISM; Dr. Paul Liknaitzky at Monash University, who is leading investigations into using psilocybin for Generalized Anxiety Disorder and involved in numerous other research projects around the efficacy of MDMA for PTSD; Dr. Vince Polito at Macquarie University who is probably our foremost microdosing researcher and has recently finished a longitudinal study of microdosing psilocybin for mild/moderate depression; and Dr. Monica Barratt at RMIT/NDARC, whose research explores the social and public health implications of digital technologies for people who use illicit and emerging psychoactive drugs.

Those are just the researchers who have a public profile and a longer history of engaging in research that's directly related to psychedelics or psychedelic communities. In the past 2-3 years, many established psychology or psychiatry researchers around the country have quietly turned their attention to psychedelics, and are now engaging more publicly through high profile publications, large projects, or the formation of research centers. Examples of this are Swinburne University's upcoming randomized controlled trial of psilocybin-assisted psychotherapy, led by Professor Susan Rossell, and the University of Melbourne's formation of its Medicinal Psychedelics Research Network (MPRN).

Searching the Australian New Zealand Clinical Trials Registry for psychedelic-focussed clinical trials that are currently recruiting does not produce a huge number of results, but what is listed is illuminating, with hospitals playing a key role in these investigations across diverse areas including tolerability studies of Field Trip's FT-104 molecule and a pilot study into psilocybin-facilitated treatment for methamphetamine use disorder.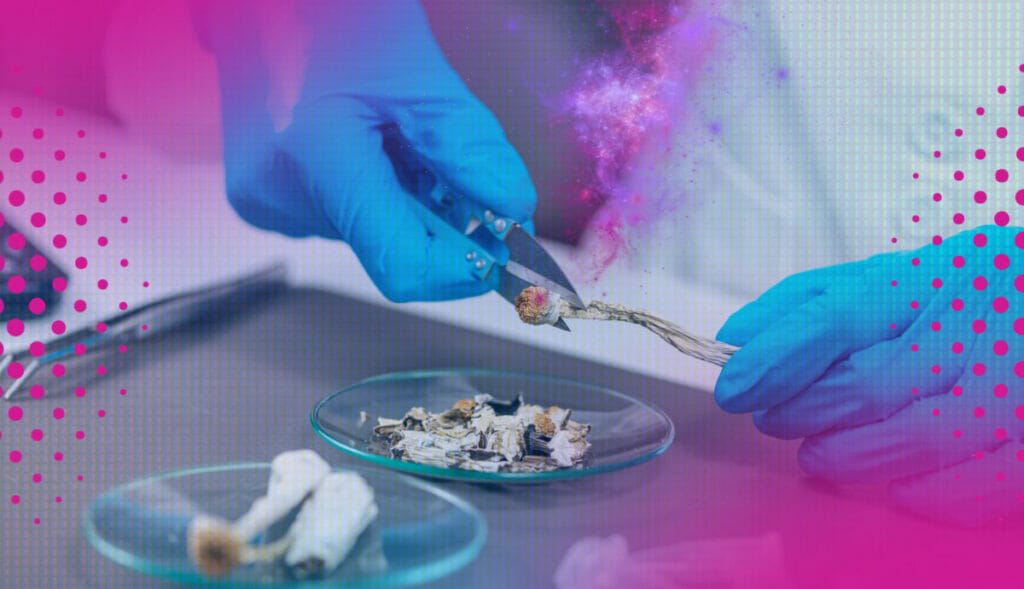 How can I take part in psychedelic research in Australia?
Besides word of mouth or being lucky enough to see the right ad on Facebook, you can check out the Australian New Zealand Clinical Trials Registry. Trial matching services such as HealthMatch may also be helpful.
The Underground
Organizations and researchers are great, but they're not the beating heart of psychedelics in Australia. That would be the people and communities who use psychedelics, and many people involved in above-ground psychedelic activities are also long-time & active members of underground communities.
What Psychedelics are common in Australia?
While psychedelic use in Australia is relatively rare, it is on a steep upward trend. In 2019, 10.4% of the population had used psychedelics in their lifetime, and 1.6% had used psychedelics in the past year. That 1.6% might not sound like much, but that's up from 1% in 2016!

The 2019 National Household Drug Survey found that the most used psychedelic in Australia is LSD, followed by psilocybin mushrooms, DMT, and mescaline. Official surveys don't get into fine detail, but anecdotally, there's a bit more nuance. Mushroom use splits somewhat geographically, with Psilocybe cubensis being more common in warmer areas than the native P.subaeruginosa. DMT is used as vaporized crystal, smoked as Changa, or imbibed in local Ayahuasca analogs, with Acacia often replacing Chacruna leaves as the DMT component. Peyote is rarely used, with San Pedro (Trichocereus pachanoi) or Bolivian Torch (Trichocereus brigesii) cactus being the most common sources of mescaline.
Sure, but what's the scene really like?
It's hard to generalize what psychedelic use and communities are like here. Many psychonauts are growing obscure plants and pursuing arcane knowledge, loosely bound by social media and the occasional camping trip, bush doof, or picnic in a local botanic garden. For the uninitiated, bush doofs are outdoor dance parties that emerged in Australia in the 90s and have become a significant part of the country's alternative subculture. Typically held in remote areas of the bush, these events are often characterized by an eclectic mix of electronic music (especially psytrance), psychedelic art, and drug use. From humble and unsanctioned beginnings, the doof is now often incarnated as large outdoor multi-day dance festivals such as Rainbow Serpent and remains a cornerstone of the enduring relationship between psychedelics, rave culture, and music.

Compared to a few years ago, many more people are aware of the potential benefits of psychedelics. So, there's a sense that this isn't a wholly countercultural thing anymore. Anyone you meet could use or be interested in psychedelics – you never know!

People are facilitating psychedelic experiences all over the country (more, in my opinion, than there used to be.) This can be one-on-one or in groups. Many of these facilitators and guides have extensive experience and skill in serving and holding space for the people in their care. It could be smoother sailing, though. Allegations of facilitators having inappropriate relationships with ceremony participants or following unsafe dosing practices (e.g., dosing people with MDMA too soon after Ayahuasca, thus risking serotonin toxicity) are not uncommon. While most of these alleged incidents never make it to court, a Queensland man has been charged with the sexual assault of four women who had participated in his "spiritual healing" Ayahuasca ceremonies.

Community concerns around ethics and standards of care have driven engagement with international efforts such as the Ethical Psychedelic International Community (EPIC). EPIC is a group of ethicists, facilitators, and community organizers who are dedicated to creating safe and ethical psychedelic spaces, specializing in supporting and advising individuals, communities, and organizations within the psychedelic and plant medicine world who are navigating challenging ethical situations. The same concerns independently led to local community members founding the Psychedelically Aware Talking Circle Hub (PATCH.) PATCH is a space that supports people who've experienced harm in psychedelic contexts, and aims to leverage community discussions of harm minimisation to produce processes and resources that will allow communities to address issues around safety and ethics as they arise.

Regardless of setting, and whoever they're with, lots of people are using psychedelics and want to talk about their experiences. There is high demand for both community-led integration circles and professional integration therapy.
The Future of Psychedelics in Australia
Where we go from here is difficult to predict. Australia has taken the first step towards clinical access for psychedelic-assisted therapy. How widespread and accessible will this be? That depends on patient advocates overcoming the conservative stance of the TGA, health officials, politicians, and the psychiatric establishment.

It's pleasant to imagine that acceptance of therapeutic psychedelics will lead to broader legal reform, as medical cannabis has in much of the US. But our medical cannabis system here is much more restrictive and heavily regulated. Every single patient who is prescribed cannabis is processed through a federally administered access scheme and there are no legal walk-in dispensaries. Doctors and cannabis companies aren't even supposed to advertise their services or products (though they regularly bend these laws.) We've technically had medical cannabis since 2016, and there is little indication that this will automatically lead to adult recreational legalization.

The situation isn't all doom and gloom, though. The number of people aware of psychedelics and their potential has grown astronomically in recent years. The number of people who have had psychedelic experiences has grown just as rapidly. So, I hope we can expect political and regulatory progress to follow the social changes we're currently experiencing.

My prediction is that non-clinical psychedelic access will be community-based, with more nonprofit psychedelic social clubs rather than neon-lit dispensaries. The medical use of psychedelics will evolve but remain heavily regulated until the medical model itself changes.

Whatever happens, there has never been a more exciting time to be involved in psychedelics in Australia.