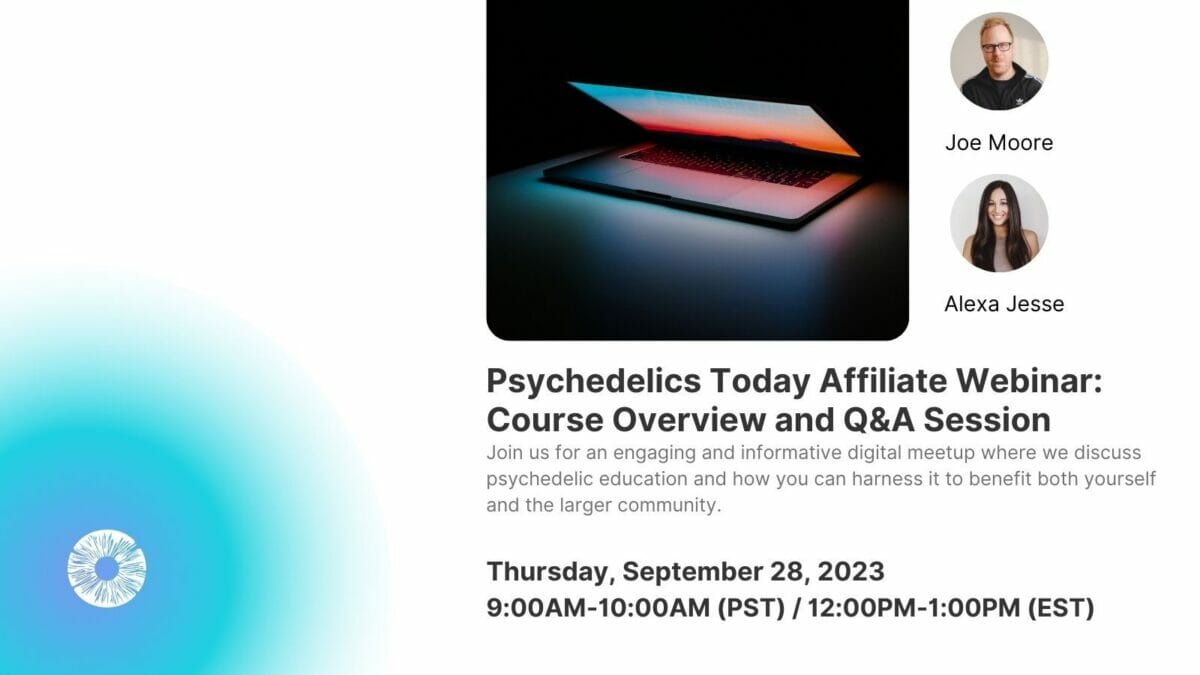 September 28, 2023
Psychedelics Today Affiliate Webinar: A Course Overview and Q&A Session
Date and time
Sept. 28 - 9 a.m. - 10 a.m. (PST) / 12 p.m. - 1 p.m. (EST)
Free
About This Event
Join us for an engaging and informative webinar, where we'll delve into the exciting world of psychedelic education and how you can harness it to benefit both yourself and the larger community. As a valued affiliate, this is your chance to learn more about the plethora of courses available in the Psychedelic Education Center and explore how you can contribute to the expansion of psychedelic knowledge while earning revenue.
Webinar Agenda:
Introduction to Psychedelics Today: Gain insights into the mission, vision, and values of Psychedelics Today and how you can align with our community.
Course Spotlight: Explore the diverse range of courses offered in the Psychedelic Education Center, designed to empower individuals with knowledge about psychedelics, mental health, therapeutic applications, and more.
Affiliate Program Overview: Learn about the Psychedelics Today Affiliate Program and how you can participate to generate revenue while sharing valuable educational resources.
Benefits of Affiliation: Discover the advantages of being a Psychedelics Today affiliate, including revenue potential and the opportunity to be featured on our prominent social media platforms.
Tips and Tools for Maximizing Efficiencies: Discover strategies and tools to enhance your promotion efforts, ensuring effective and efficient outreach to your audience.
Q&A Session: Get your questions answered by our expert team and fellow affiliates, ensuring you have a clear understanding of the affiliate program and how to maximize your involvement.