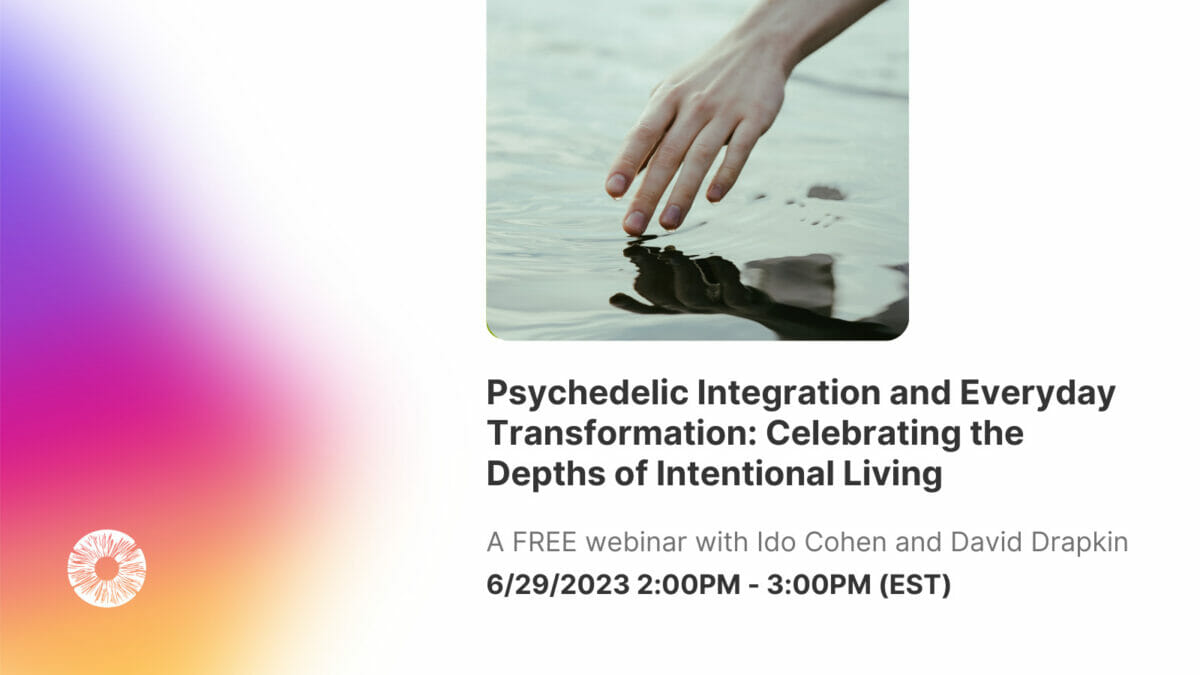 June 29, 2023
Psychedelic Integration and Everyday Transformation: Celebrating the Depths of Intentional Living
Date and time
6/29/2023 2:00PM - 3:00PM (EST)
FREE
About This Event
Discover the transformative power of applying intentional approaches to psychedelic integration in this FREE webinar.
This event brings together David Drapkin and Ido Cohen in a discussion about the journey of self-discovery. They offer practical techniques to integrate your psychedelic experiences into everyday life and share some approaches to cultivate a more purposeful existence. By seeing integration as a way of life and a never-ending path of meaning-making we evolve authentically and holistically from the heart.
Don't miss this opportunity to learn more about the Navigating Psychedelics course in which David and Ido both teach (classes start July 12th) and to simply celebrate the depths of intentional living that psychedelics can open up.
About David:
David Drapkin is a Licensed Clinical Social Worker (LCSW) and Psychotherapist, from Birmingham, England, now living in New Jersey. He is a seasoned mental health and addiction practitioner with over 15 yrs in front-line clinical, supervisory, and managerial positions.
David's encounters with non-ordinary states of consciousness go way back and incorporate the spiritual, transformational, and healing realms of experience. From psilocybin journeys following clinical protocols to solo fasting meditation retreats in India, Israel and New Zealand. David is most interested in how psychedelics connect with mystical and esoteric states to engender epistemological rebirth. David has a small private psychotherapy practice, and is the Director of Education & Training at Psychedelics Today.
About Ido:
Dr. Ido Cohen, Psy.D – serves individuals, couples and groups in San Francisco. He received his Psy.D from the California Institute of integral studies and trained at the Jung Institute In San Francisco. He works with a diverse range of challenges childhood trauma, inner critic, relational issues, lack of fulfillment, psychospiritual growth as well as psychedelic integration and preparation sessions with individuals and groups. His doctoral study researched the integration process of Ayahuasca ceremonies, while applying Jungian psychology to better understand how to support individuals in their process of change and transformation. He is the founder of "The Integration Circle" and facilitates workshops on the different dimensions of integration and the intersection of mental health, spiritual health and the entheogenic experience. Ido believes that the intersection of our psychological, emotional, somatic and spiritual dimensions can develop our relationships with our inner and outer worlds and create the changes we want to see in our life. Ido is passionate in supporting individuals to create long term, sustainable change leading to vibrant, authentic, expressive and love filled lives.