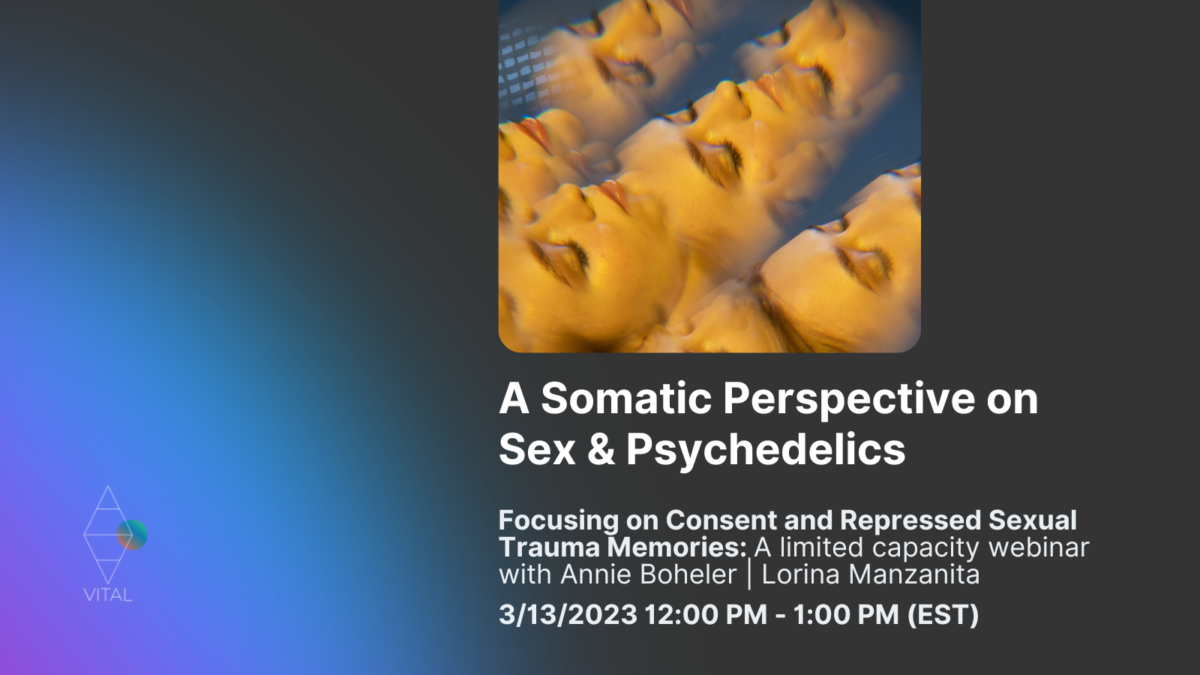 March 13, 2023
Webinar – A Somatic Perspective on Sex & Psychedelics: Focusing on Consent and Repressed Sexual Trauma Memories
Date and time
12:00 PM - 1:00 PM (EST)
About This Event
The topic of sexual wellness is often glossed over in general therapeutics and psychedelic therapy spaces. The boundary-dissolving characteristics of the psychedelic experience calls for a more in-depth conversation about how healthcare providers hold our own relationship with sexuality and the body. This webinar presentation is intended to support harm reduction, increase healthcare providers' somatic self-awareness, and to open up the conversation on the intersection of psychedelics and sexuality.
Somatic skill development is vital to cultivating a safer and more ethical healing space. Join us to learn more about the value of the mind-body connection as an integrative force within psychedelic containers. Whether or not you intend to bring the elements of sexuality into your practice, the prevalence of sexual trauma in our population is undeniable. Consciously cultivating an embodied capacity to meet the truth of Eros in the human experience is essential for being a present and responsive practitioner.
The Presenters: Annie Boheler and Lorina Manzanita work as somatic intimacy coaches and Somatic Experiencing© Practitioners. They offer complementary perspectives on sex-positive, relational therapeutics founded on years of integral psychedelic work.
Topics to be explored:
Defining and understanding what is sexual contact
How power dynamics and trauma impact one's ability to give consent
Outline of an embodiment practice to support re-establishment of authentic boundaries
A presentation of the phenomenon of repressed sexual trauma memories arising in psychedelic healing spaces
Positions and approaches to greet with caution and practices and principles to cultivate generously when holding questions of repressed sexual trauma memories
What to expect:
Demo for experiential awareness
Time for Q&A
NOTE: This webinar is limited to 30 participants. Please reserve your spot by registering!