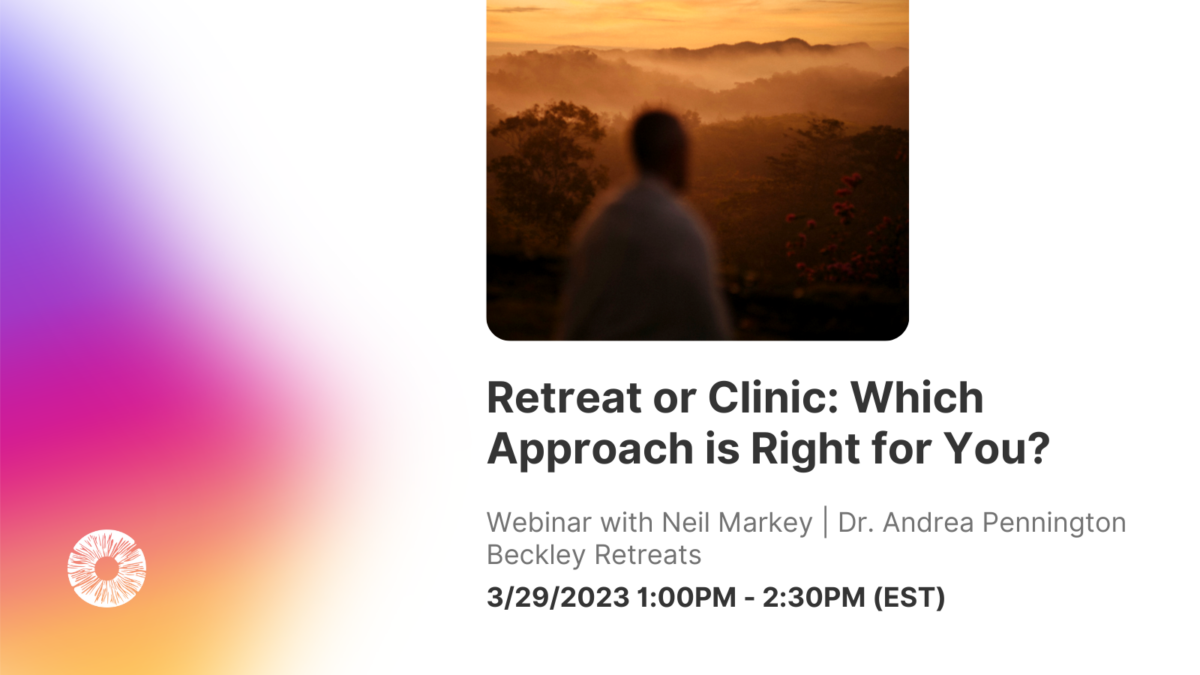 March 29, 2023
Webinar – Retreat or Clinic: Which Approach is Right for You?
Date and time
10:00 AM - 11:30 AM MST
About This Event
With the growing number of clinical studies showing positive results for depression, anxiety and PTSD, many people are looking forward to sitting with psilocybin for its healing benefits. The question comes up a lot, would it be more beneficial to try psilocybin on a retreat or in a clinical setting.
Join Neil Markey and Dr. Andrea Pennington of Beckley Retreats as they weigh the pros and cons of each.
About Neil Markey
As co-founder and CEO of Beckley Retreats, Neil is passionate about sharing the science-backed benefits of psychedelics in conjunction with the contemplative practices that support holistic wellbeing. At Beckley Retreats, he's dedicated to building a business that operates with the utmost integrity, both internally and across the many communities it will touch.
A Captain in the US Army Special Operations 2nd Ranger Battalion, Neil was deployed once to Iraq, and twice to Afghanistan. After, as an MBA/MIA masters student at Columbia University, he suffered from depression and PTSD. This led him to alternative wellbeing practices and marked the start of a profound healing journey with mindfulness and psychedelics. Prior to Beckley Retreats, Neil worked as the Chief Growth Officer for a $450M private equity portfolio company where he was responsible for all strategy and growth planning. Before that he worked as a consultant at McKinsey & Co, where he also co-led the internal mindfulness program. Neil credits meditation and plant therapy with saving his life.
About Dr. Andrea Pennington
Dr. Andrea is an American integrative physician, Psychedelic Assisted Therapy Facilitator, acupuncturist and creator of The Cornerstone Process for Conscious Evolution and The Attunement Meditation. She has written or contributed to 18 books, and is the bestselling author of The Top 10 Traits of Highly Resilient People, The Real Self Love Handbook, and The Orgasm Prescription for Women. She is also an international speaker with over 4 million views of her TED talks, hosts the Conscious Evolution Podcast, and has a vast career in global media and documentary filmmaking. With over two decades of medical practice specialized in trauma recovery, addiction medicine, Traditional Chinese Medicine and acupuncture, Dr. Andrea has provided medical services, workshops and retreats to help thousands of people build resilience, reclaim vitality after burnout, recover from Adverse Childhood Experiences and nurture real self love in order to thrive in all areas of life.
Dr. Andrea brings her background and experience to the role of Senior Advisor, Program Facilitation for Beckley Retreats.