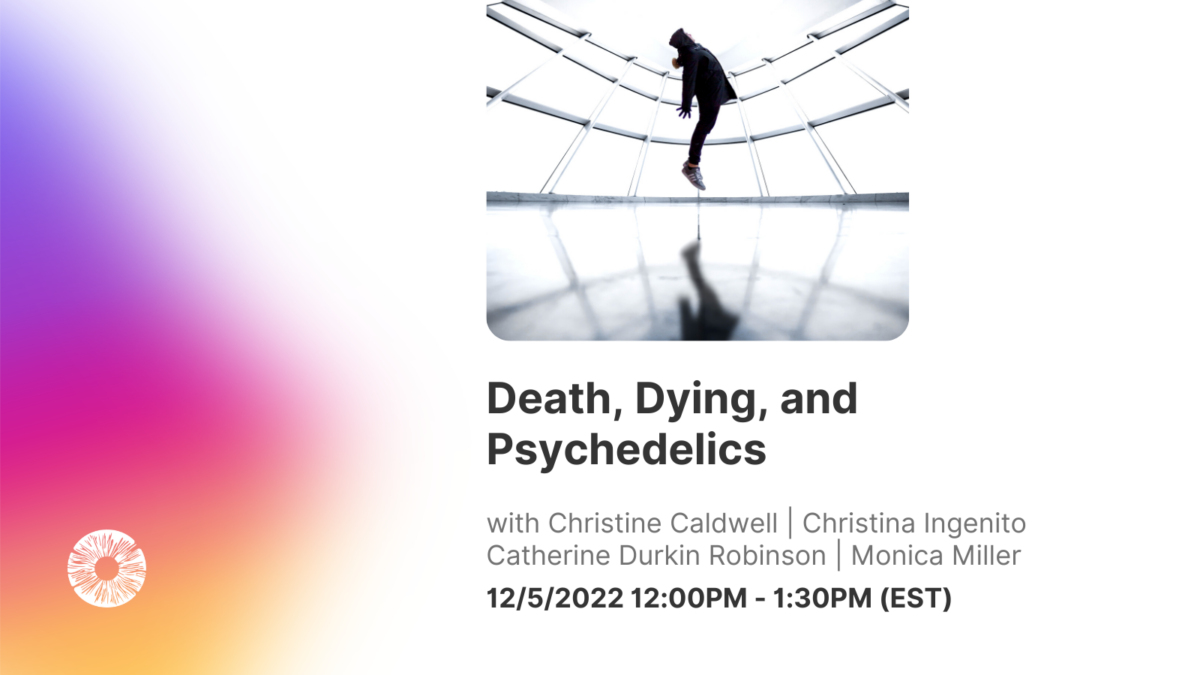 December 5, 2022
Webinar – Death, Dying, and Psychedelics
Date and time
December 5, 2022
12:00 PM - 1:30 PM EST
About This Event
Psychedelics open us to the prospect of death as part of our common humanity and consciousness. Research from NYU, Johns Hopkins and UCLA have consistently shown that psilocybin, not just reduced the anxiety and depression associated with the fear of dying in cancer patients, but it also brought feelings of unity and peace and acceptance to death and dying.
This panel will bring together the Founder of the first-of-its-kind end-of-life psilocybin retreat and training, the End-of-Life Doula who led the programs' development, a psychedelic trained psychotherapist with 30 years' experience as a hospice social worker and cancer survivor who participated in an MDMA study for individuals with life-threatening illnesses, and a Psychedelics Today colleague who was transformed through psychedelics after the death of her father.
Join them in an engaging panel discussion to talk about the death and dying process, the role of an End-of-Life Doula in this process, how and why psychedelics are powerful sources for healing in those with terminal diagnoses, and how you can begin to shift your thinking about death and dying. They each will share their personal stories with psychedelics and death which are moving testimonials to the potency of psychedelics for this, the most important, part of one's life journey.
Please note that an attendee report (names, email addresses) is shared with the partner.
Panelists:
Christina Ingenito – LCSW, Psychedelic-Assisted Psychotherapist, Clinical Director at Diaspora Psychedelic Society
Monica Miller – Event Manager at Psychedelics Today
Catherine Durkin Robinson – Death Doula and Educator at Anitya Doula Services
Host:
Christine Caldwell – Manager, End-of-Life Programs at Diaspora Psychedelic Society