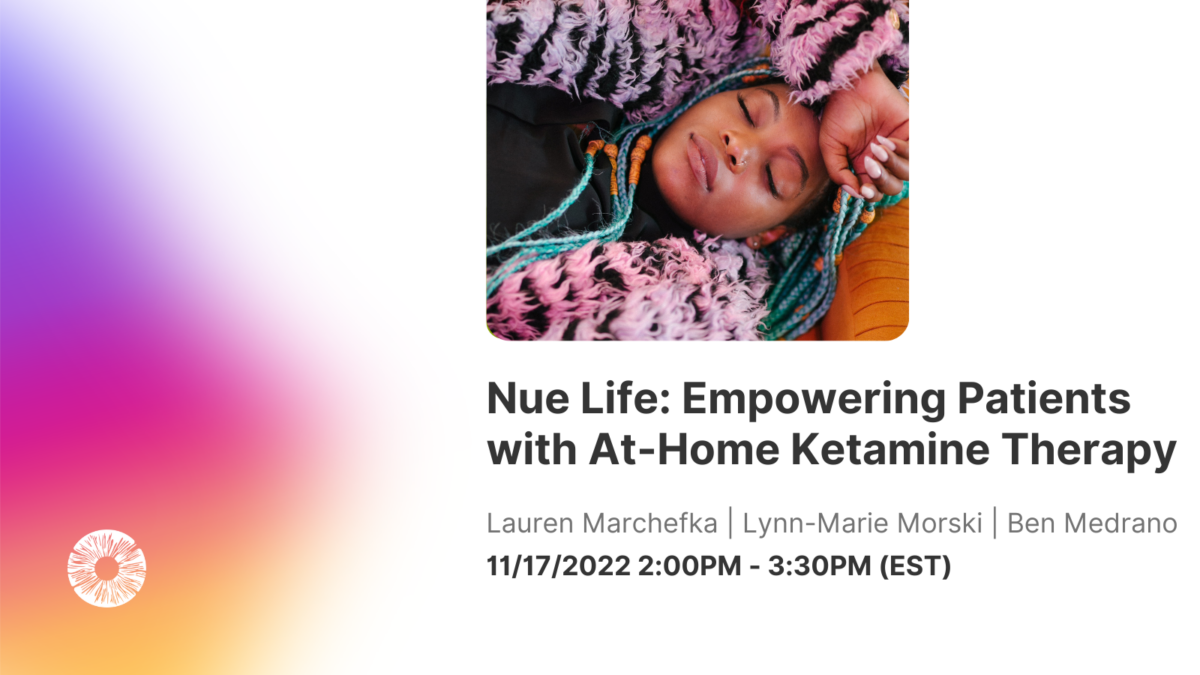 November 17, 2022
Free Webinar – Nue Life: Empowering Patients with At-Home Ketamine Therapy
Date and time
November 17, 2022
2:00 - 3:30pm EST
About This Event
Join us for an open dialogue with several game-changers from Nue Life who will discuss their treatment, findings, and a call for mainstream adoption of this method of care.
Many in the United States are benefitting from ketamine treatment, reporting that major symptoms of depression are reduced after just a few doses in a clinical setting. This medicine, when used with intention and care, can bring a new level of mental wellness to one's life.
However, psychedelics like ketamine have a long history of stigma, resulting in reluctance from prescribers to adopt this type of treatment. The lack of ketamine prescribers presents a bottleneck to the mainstreaming of psychedelic treatment within the mental health infrastructure.
NueLife—a team of dedicated physicians, expert technologists, and compassionate clinicians—delivers responsive, personalized ketamine therapy in the comfort of their clients' homes. Research shows that of their 650 patients with treatment-resistant depression and anxiety, approximately 2/3rds saw over a 50% reduction in symptoms after just six ketamine sessions.
Panelists:
Lauren Marchefka – Board-certified family nurse practitioner and member of the senior medical team at Nue Life.
Lynn-Marie Morski – President of the Psychedelic Medicine Association, host of the Psychedelic Medicine Podcast, and Medical Director for Nue Life Health.
Ben Medrano – Medical Director of Nue Life Medical Group. Additionally, Ben works in patient care as Medical Director of Field Trip NYC and DC clinics while providing direct care within his private practice.
Host:
David Drapkin – The Director of Operations and Strategic Growth at Psychedelics Today. Additionally, he is a licensed clinical social worker and seasoned mental health and addiction practitioner.