In this episode of the podcast, Joe interviews Lyle Maxson: Co-Founder and Chief Strategy Officer of Entheo Digital, a "technodelic" company focusing on digital therapeutics and virtual reality – both as adjuncts to psychedelic-assisted therapy, and theoretically, as new forms of medicine.  
Maxson began his career by creating immersive, psychedelic-like experiences at some of the world's largest music festivals. It was mostly those world-building experiences and some time in sensory deprivation tanks that led to his interest in seeing just what was possible through altered states of consciousness and technology. He discusses using VR before and after psychedelic experiences as a priming and integration tool; VR's potential to ease first-time trip anxiety; Entheo Digital's SoundSelf system and the powerful influence of biofeedback; and the question of whether or not technology (on its own) could initiate a non-ordinary state of consciousness with the same benefits as one brought on by psychedelics. 
This episode treads lots of new ground, with Maxson discussing the likelihood of using different tools to be able to naturally activate endogenous DMT; the idea of a Steam-like internet marketplace for digital medicine; the possibility for technology to trigger lucid dreaming; the concept of highly-personalized digital schooling, and the tough question of how to not become so reliant on technology in such a quickly-advancing technological world. The challenge, which Maxson is eager to take on, is to shift opinions on VR from fear and pessimism to inspiration about what's truly possible: How can we use technology not for escapism, but instead, for good?
Notable Quotes
"If you're trying to drive to a yoga class, you're usually more stressed out by the time you get there than if you hadn't of left your house at all. And I feel like that's the case with a lot of therapy work in general, whether it's psychedelics or not; you could have [an] onboarding call with somebody the day before, but you have no idea what's happening to them [in] the 24 hours leading up to them actually coming into your clinic. So I think the big focus on the priming is: how do we have reliable, very consistent treatment processes with being able to drop people into a very deep surrender, meditative, introspective state prior to them actually going into a therapeutic process?"
"I think that eventually, you'll start to combine light, frequency, vibration, [and] electromagnetics to the point where you could actually activate DMT inside of your brain without having to use it from an external source – so like, literally using technology to activate the psychedelics inside of your own body. I think we will get to that place and that will be very interesting."
"What [we're] doing with creating digital medicine is a holy grail type of project, but with that comes the reverse side; which is the addiction that we already have to computers is off the charts, but what happens when you could literally press play and get high at any moment? Would people ever get off of it? So that's a philosophical question, but I think we're actually going to butt up against that in the next few years as we continue to develop this technology."
"What does it look like to get in on the ground floor? It'd be really hard to do that in movies or radio or the variety of mediums; TV shows, all of those things. Like, they're already pretty much dominated by content that we don't really want or doesn't make us feel better when we watch it. But with VR, it's early enough to get in on the ground floor and create compelling alternatives to the zombie shooter games and the porn that will inevitably fill the device, and get people thinking about how to be an embodied avatar inside of a virtual world and do it for good instead of for escapism."
Links
Guide to Topanga Canyon: A Piece of Hippie Heaven
Truerestfranchising.com: Nick Janicki
Spiritualtechnologies.io: Don Estes
FDA.gov: FDA Permits Marketing of First Game-Based Digital Therapeutic to Improve Attention Function in Children with ADHD
Othership.us (Robbie Bent)
Enterandromeda.com (Andromeda Entertainment)
What Technology Wants, by Kevin Kelly
The Tim Ferriss Show: Interview with Peter Thiel, Billionaire Investor and Company Creator (#28)
Reality Is Broken: Why Games Make Us Better and How They Can Change the World, by Jane McGonigal
Exploredeep.com (Deep VR)
AppliedVR.io (Applied VR)
About Lyle Maxson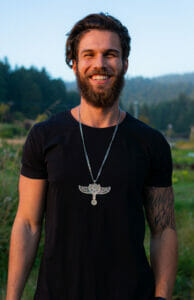 Lyle Maxson is the Co-Founder of GeniusX, an XR education platform reimagining online learning. He is also the Co-Founder of Andromeda Entertainment, a VR publishing company focused on bringing to market "games for good," which developed and published the first-ever digital psychedelic, Soundself VR, as well as the breakout hit, Audio Trip (voted best dance game of 2019 by VR insider). His latest venture, Entheo Digital, seeks to provide digital therapeutics solutions for psychedelic therapy and the treatment of mental health disorders. Lyle has appeared on a variety of stages, speaking on benevolent technology and the positive impact immersive tech can play in our future. He runs a 50,000 person community of transformative entertainment enthusiasts and is a pioneer in the neurohacking movement.
---


Support the show!