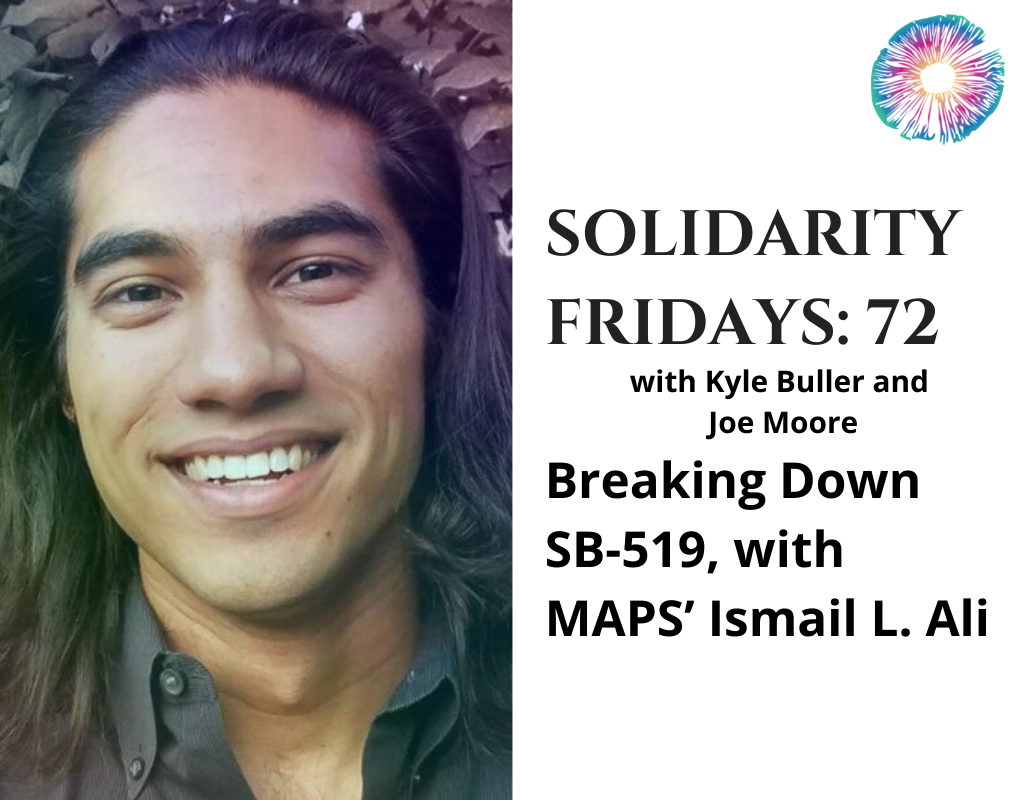 In this week's Solidarity Fridays episode, Joe and Kyle are joined by lawyer and lead Policy Council at MAPS, Ismail L. Ali. 
In the teams' past coverage of Scott Wiener's Senate Bill 519, there has admittedly been some confusion about what exactly it entails, as well as judgments made without hearing from someone on the inside. So we felt it was time to have someone on the podcast who could explain it to all of us better, and Ali was the perfect candidate, having just been a witness at the California State Assembly Health Committee hearing on SB-519 and a member of MAPS (who has been working with Wiener's team). 
And he goes into SB-519 in depth: how it sets the groundwork for future reforms, why they went a different direction than Oregon, how MAPS has been involved, why the bill has changed (concerning expungement, ketamine, and possession limits), what lawmakers are most concerned about, Decriminalize Nature's issues with the bill, and what he hopes comes next. He also talks about his path towards psychedelics and his family history with ayahuasca and facilitation, his concerns over monopolies and repeating the mistakes of the cannabis industry, what he'd like to see replace D.A.R.E., drug exceptionalism, and the importance of recognizing celebratory drug use as a legitimate healing tool.
Notable Quotes
"A lot of the media attention it's gotten has been focused on it as a psychedelic decriminalization bill, but one thing that I just want to acknowledge is that it's a little bit broader than that, in the sense that it also sets what I believe to be some really critical groundwork for future drug decriminalization or even regulated, adult-use legalization."

"The idea that not having named limits means unlimited possession is not real. What that means is that it's unknown until there is an arrest and a case that determines [it], in which case it's going to be the judge [or] the prosecution determining what that limit is, as opposed to the people who are actually advocating in support of the bill."
"What if we decriminalized some of these psychedelic substances based on the premise that they're safer, or based on the premise that they're good for you in certain cases, in certain situations? I feel that that could really undermine efforts to be decriminalizing on criminal, legal, or human rights grounds- where it doesn't matter if the drug is good for you or not, people shouldn't be thrown in jail for ingesting it. I think that's another sticky point that I think we, as a movement, really need to be talking about so we're not leaving behind users of other drugs."
"If we know that a drug is more likely to be adulterated, is more likely to be a risk, why are we keeping it in the underground, where there's no accountability for people who adulterate it with substances that are significantly more harmful?"
Links
YouTube: SB 519 bill hearing by California Assembly Public Safety Committee. 06/29/2021
Psychedelics Today: Natalie Ginsberg – Psychedelic Policy and Advocacy
About
Ismail L. Ali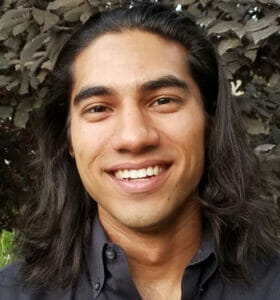 Ismail L. Ali is Policy & Advocacy Counsel for MAPS, where he advocates to eliminate barriers to psychedelic therapy and research, develops and implements legal and policy strategy, and coordinates support for clinical research in Latin America. Ismail is licensed to practice law in the state of California and also serves as Vice-Chair of the Students for Sensible Drug Policy Board of Directors. Ismail earned his J.D. at the University of California, Berkeley School of Law in 2016, after receiving his Bachelor's in Philosophy from California State University, Fresno, in 2012, where he also studied writing and Spanish-language literature. As a law student, Ismail served as co-lead of Berkeley Law's chapter of Students for Sensible Drug Policy and worked for the ACLU of Northern California's Criminal Justice and Drug Policy Project, and the International Human Rights Law Clinic at Berkeley Law. To first support his work at MAPS, Ismail received Berkeley Law's Public Interest Fellowship. Ismail believes that psychedelic consciousness is a crucial piece of challenging oppression in all of its forms, and that legal access to psychedelics is an essential part of a progressive drug policy paradigm. He hopes to help develop and advocate for just, equitable, and creative alternatives to the failed war on drugs.
---


Support the show!