In this episode, Joe interviews philosopher, author, and assistant professor in the Philosophy, Cosmology, and Consciousness program at California Institute of Integral Studies in San Francisco: Matthew D. Segall, Ph.D.
Segall discusses the relationship between consciousness and neuroscience: how science is helpful, but ultimately amounts to just one of many different tools towards describing consciousness (not truly understanding it), and how science, philosophy, and religion need to focus on their specialties but also work together towards better defining the human experience. And he talks about the importance of philosophy in trying to make sense of non-ordinary states of consciousness. 
As this is a very back-and-forth, philosophically-based conversation, they talk about a lot more: William James, David Ray Griffin's concept of "hardcore common sense presuppositions," Richard Dawkins, scientism, positivism, how we're slowly thinning the line between technology and humanity, Timothy Leary and whether or not anyone really "dropped out," German idealism, how capitalism co-opts everything, John Cobb, Alfred North Whitehead, Universal Basic Income, the death denial in capitalist life, and how to use the relationship between the internet and capitalism to improve society. 
Notable Quotes
"The thing about capitalism is that it lives inside each of us at the level of our desires and our drives because we've been shaped by it. So we can't pretend like it's this big, bad monster out there that other people believe in. The problem with capitalism is that it's not just a worldview you decide to believe in or not; it is the very structure, again, of your desires and your sense of identity. It's inside of you."
"They say cannabis causes problems with motivation. Well yea, once you see through the value structure of our society, you lose motivation to participate because it's no longer appetizing to you to engage in the rat race." 
"Fifty years later, after Leary was saying 'Turn on, tune in, and drop out', a lot of people thought that they followed his instructions, but again, capitalism co-opted the whole hippie movement, and by the 90s, they were selling Che Guevera t-shirts at the shopping mall and Apple was using the Beatles to sell computers." 
"The way that liberals tend to think about these questions [is that] they get really mad at Facebook for being biased in what ads they allow and not censoring certain things and selling ads to Russians and stuff. …A publicly traded corporation has one purpose: to maximize shareholder profits. And that's the business model for Facebook, and so they'll take money from anyone who wants to sell ads. They're a private company. They're not a public utility that has anywhere in its corporate charter as part of its mission: 'improving civil society' or 'helping America maintain its democracy.' Why would we expect a private corporation to do that? There's no incentive in capitalism for that. And yet we get mad and blame Mark Zuckerberg. Why aren't we blaming capitalism? That's where the source code for this problem is." 
"Psychedelics aren't necessarily going to wake us up, but I think that's why we need philosophy. These substances and these experiences need to be contained within a meaningful story and a meaningful theory of reality so that we can make sense of what we're experiencing and integrate it, and not only come out of those experiences with a profound sense of what's wrong with our society, but with at least a good idea for what we'd like instead."
Links
Physics of the World-Soul: Alfred North Whitehead's Adventure in Cosmology, by Matthew David Segall
Psychedelics Today: ​​Matthew Segall, Ph.D. – Whitehead, Process Philosophy, and Ecology
Youtube: Alan Watts debate with Timothy Leary, Allen Ginsberg and Gary Snyder (1967)
About Matthew D. Segall, PhD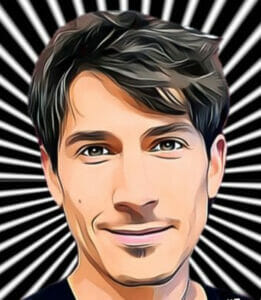 Matthew D. Segall, PhD, is assistant professor in the Philosophy, Cosmology, and Consciousness program at California Institute of Integral Studies in San Francisco, where he teaches courses primarily on German Idealism and Alfred North Whitehead's process philosophy. He is the author of Physics of the World-Soul: Whitehead's Adventure in Cosmology (2021) and has published journal articles and book chapters on a wide range of topics including panpsychist metaphysics, media theory, the philosophy of biology, the evolution of religion, and psychedelics. He blogs regularly at footnotes2plato.com. His current research focuses on the panpsychist turn in contemporary philosophy of mind and its implications for the scientific study of the origins of life and consciousness.


Support the show