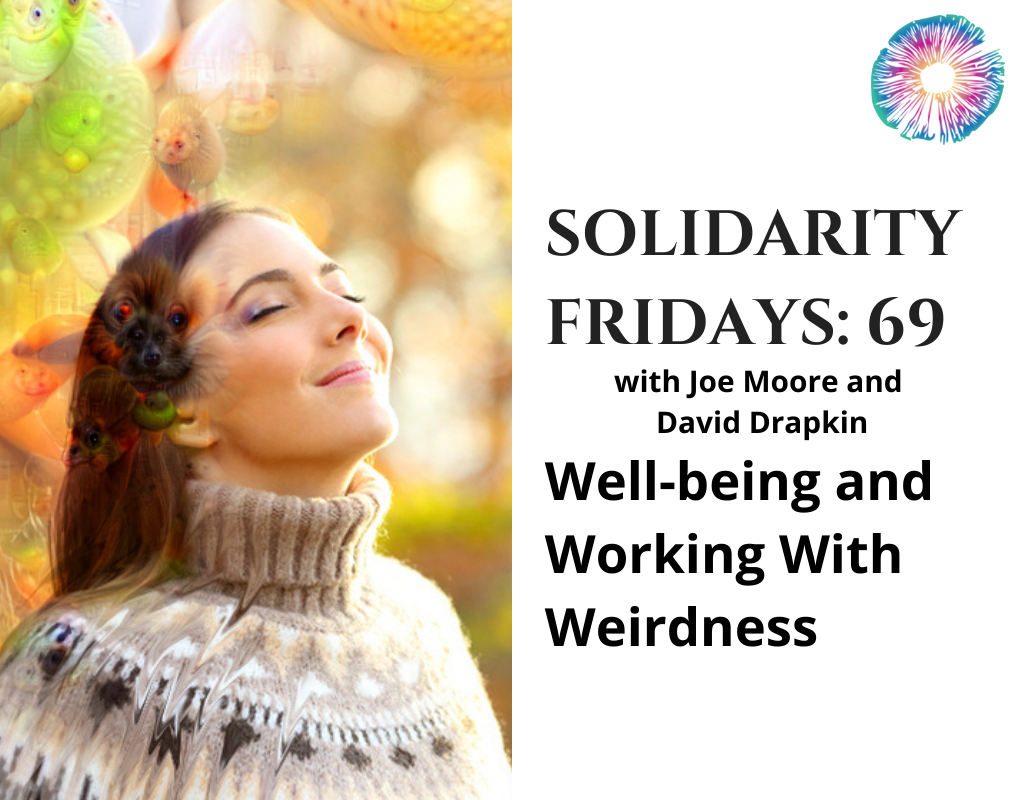 In this week's Solidarity Fridays episode, the crew of five from last week has been whittled to two, with Joe and the new guy (David) getting into a discussion about cynicism, mysticism, and well-being. 
They first look at Senate Bill 519 again, after a listener wrote in to correct them about their understanding of social-sharing and to suggest that they were too critical in last week's episode. And they wonder: Have we, as a subculture, become so cynical that we can't see any progress as good enough? Has the perfect too often become the enemy of the good? 
They then discuss an article stressing the need to acknowledge and attempt to study the mystical (weird) part of psychedelics that can't be measured by changes in neuroscience, with David telling us the story of his path to Psychedelics Today involving a near-death experience with a space heater, witnessing an exorcism, and a mushroom-inspired "experience of madness." 
And they talk about a lot more: A study that measured improvements in well-being and the difficulty in defining such an open concept (the word of the day is "eudaimonia"), the star-studded panel Joe moderated this week, Kabbalah, permaculture, and the idea of thinking outside of financial terms with different forms of capital.
Notable Quotes
"We have a choice. Do I stand my ground and do I insist on getting everything that I deserve, on insisting on the change that is right, on the change that is needed that we all know is what we deserve? Or do we make these political deals and compromises and concessions and sacrifices, again, just because it's a step in the right direction?" -David
"How do we have faith in all these various institutions that have done so much really gross stuff, and continue to participate in this democracy that doesn't feel that way sometimes? And that's the cynicism that I feel regularly, but then I go, "Okay, I can feel cynical, but the only way to make good change is to be involved.'" -Joe
"If capitalism can be used (and its meeting point with psychedelics) to create a model that enables mass scaling, and safe, responsible use, and accessibility to psychedelics, because of the mass scale of mental illness and ontological crisis and desperation; well, okay, then maybe that's a pill worth taking. Because boy, do we need something right now that's not just a Xanax or a Prozac or a 45-minute talk session. We need more than that on an individual and societal level. So I'd be willing to kind of dance with the devil of hyper-capitalism if it actually enables that kind of merging of minds to happen." -David
Links
Psychedelics Today: What Is Depth Psychology and How Does It Relate to Psychedelics?
The tweet Tim Ferriss re-tweeted
Psychedelics Today: Working with Internal Family Systems (IFS) Therapy and Psychedelics: Everything You Need to Know
Marijuanamoment.net: California Bill To Legalize Psychedelics Possession Advances Again, With New Amendments That Add Limits
Pubs.acs.org: Working with Weirdness: A Response to "Moving Past Mysticism in Psychedelic Science"
Converse.com: Chuck Taylor All Stars
Psytech Global Summit (check back for a replay of the panel)
Ncbi.nlm.nih.gov: Sustained, Multifaceted Improvements in Mental Well-Being Following Psychedelic Experiences in a Prospective Opportunity Sample
Sage Journals: First study of safety and tolerability of 3,4-methylenedioxymethamphetamine-assisted psychotherapy in patients with alcohol use disorder

Rosalind Watts' ACE Model Meditation
Appleseedpermaculture.com: 8 Forms of Capital
---


Support the show!