In this week's Solidarity Fridays episode, the news is once again skipped, with Michelle and Kyle instead speaking with Elan Hagens and Rebecca Martinez, co-founders of Portland, Oregon-based Fruiting Bodies Collective: an advocacy group, podcast, and multimedia platform with a focus on uplifting marginalized communities and shrinking the gap between industry insiders and the rest of us. Martinez is a regular contributor to the Psychedelics Today blog and was the Event and Volunteer Coordinator for Oregon's groundbreaking Measure 109 campaign, and both serve on its Health Equity subcommittee.
They talk about their paths to creating their group and why education, access, and proper representation for everyone in the community is so important toward their next project: creating a facilitator training program that works for everyone, and is infused with justice and equity throughout. 
They break down what exactly Measure 109 means to the people of Oregon, the misconceptions about decriminalization and confusion about how to access psilocybin therapy, the idea of creating different therapeutic paths for people based on their different circumstances, what risk really means to so many of us (and especially to people of color), and the problem American society has with trusting a Doctorate over thousands of years of Indigenous wisdom.
Notable Quotes
"When we're doing this kind of work, we need to come back and realize that this stuff came from soil; it's not just a pill. It can be a pill, and everybody can have medicine in their own way, but we need to acknowledge all these variables within it, and especially, especially Indigenous healing and Indigenous medicine- giving reverence to that and acknowledging that every chance it comes up in your mind, talk about it. Don't be like, 'Oh, we've talked about it too much.' Every time it comes in your mind, let's talk about it more." -Elan

"There is a privilege in being able to go to school and having a Doctorate. There is a privilege in having a parent who can support you in elementary school and have enough money to get you into college. But that does not mean that there are people who have not had all these degrees and stuff [who] do not have the same type of knowledge. So especially with psychedelic medicine, I'm always going to come back to the Indigenous wisdom- there are no Doctorates in there. There's no titles in there." -Elan
"We want to come out with the first batch of leaders and trainers to say, 'Hey, here are some other options' straight out of the gate so that the tone that has been set is one of equity and access. And it creates healthy peer pressure so that folks are like, 'Wait, do you have a BIPOC scholarship fund? Do you have an Indigenous reciprocity fund? If not, why not? You all are talking about scale, which means you're talking about big numbers, and we see these little groups that are putting x% of their profits, so why aren't you guys?'" -Rebecca

"We have this really sick thing here which is like this tree that is rotting from the roots and we're clipping at the leaves and trying to make it better, but what we really need to do is compost it and grow something else here. But what is that vision? I think even if you look globally, we have so few examples of what a safe supply market would look like, and that's so far down the road of so many conversations, culturally, that need to be had, and so many assumptions and ideas and stigmas that need to be peeled back layer by layer, that to say something to an average American voter like, 'Imagine if we had a place where people who do use drugs could get a safe supply and know that they're not going to overdose,' you're speaking a different language at that point." -Rebecca
Links
Oregon Health Authority: Prevention and Wellness Public Health Division page (where to find recordings of past meetings)
Rebeccamartinezwrites.medium.com
Psychedelics Today: Exploring Oregon's Measure 110 and The Future of Drug Policy Reform (Martinez's most recent article)
---
About Elan Hagens and Rebecca Martinez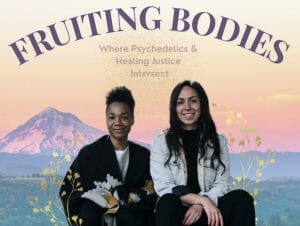 Elan Hagens and Rebecca Martinez are the co-founders of Fruiting Bodies Collective, a mission-based podcast, advocacy group, and multimedia platform in Portland, Oregon, serving the growing psychedelic healing community. They exist to bridge the gap between industry insiders and the eager-to-learn general public, with a focus on uplifting marginalized communities toward liberation for all. Their current project is the creation of a collectively owned, justice-centered psychedelic peer support training program for Oregon's legal psilocybin facilitators.


Support the show!