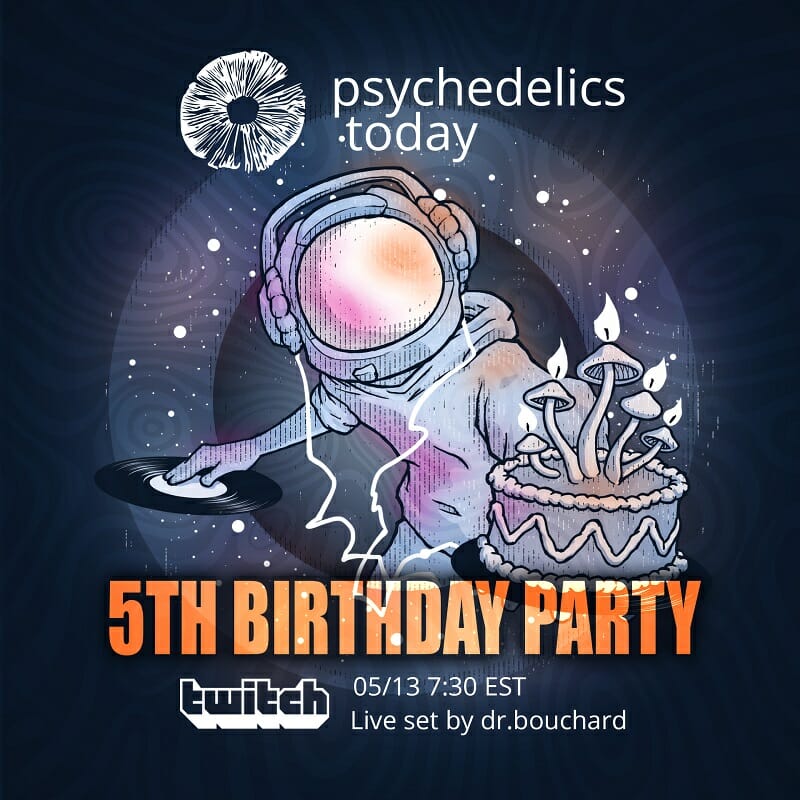 Psychedelics Today's 5th Birthday Party
About This Event
Psychedelics Today is turning 5 years old!
On Thursday, May 13th, we're celebrating 5 whole years of making Psychedelics Today and you are all invited to come celebrate with us!
We're hosting a live, virtual birthday party on 5/13 starting at 7:30 pm EST on Twitch. We'll start with a conversation between Joe, Kyle, and our newest edition, Michelle, on the origins of Psychedelics Today, how Joe & Kyle met, why they wanted to start a psychedelic podcast and media company, how they created their Navigating Psychedelics course, and so much more! We'll also be opening it up to questions from the audience, so if you've been meaning to ask us something, Thursday evening is your chance!
Then after about an hour, we'll be winding down (or ramping up) with a live vinyl DJ set from dr. bouchard. So mark your calendars and get ready to celebrate our birthday with us! It's totally FREE and guaranteed to be a super chill evening full of psychedelic insight, music, and more!