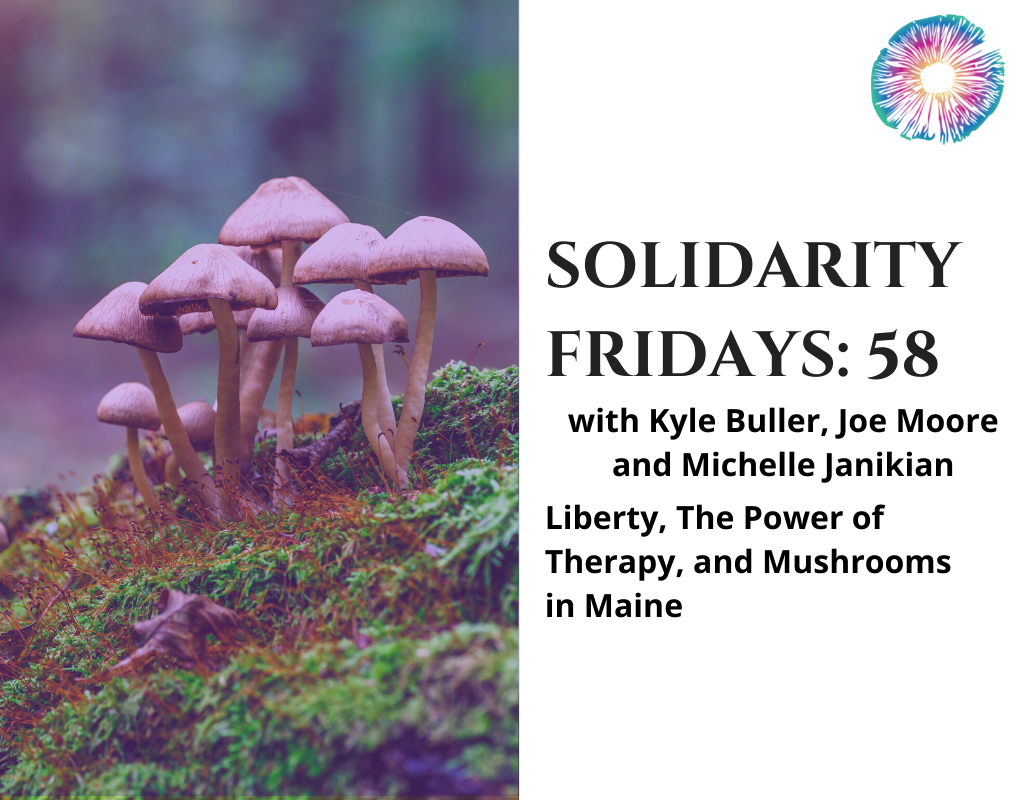 In this week's Solidarity Fridays episode, Michelle is back, Joe is in Phoenix, news is covered, and rants are made.
They first cover Maine's recent proposal to legalize psilocybin therapy, and how interesting it is that a diagnosis wouldn't be needed, but a "licensed psilocybin service facilitator" would: Is this a move towards liberation or far away from it? They then discuss the excellent results finally coming out of MAPS' Phase 3 Trial for MDMA-Assisted Therapy, which leads to a huge sidebar about the efficacy of therapy, what a diagnosis can mean, how we define "sick" and "healthy," and how we trust "evidence-based" studies and the DSM when maybe we shouldn't so much.
They then talk about a CEO of a $2 billion startup getting fired for using LSD at work in a microdosing experiment, the FDA proposing a ban on menthol-flavored cigarettes and flavored cigars (which Michelle refers to as what a lot of us know them as, "blunt wraps"), and the list that sparked a lot of controversy in the community, Psychedelic Invest's "100 Most Influential People in Psychedelics" list, which, despite Joe's inclusion at #85 (Yay Joe! Sorry Kyle!), Michelle did not entirely agree with.
Notable Quotes
"I understand that maybe totally regulating and legalizing psilocybin for sale without the facilitator component is a little radical for the mainstream to handle, but …I do hope that this is a first step toward that. Maybe we can show how safe and gentle psilocybin can be, and that the facilitator aspect should be a choice among people and not a necessity." -Michelle
"You don't need a clinical diagnosis to know you have shit to work on." -Joe

"Talking about diagnosis and the medicalization of therapy, I think it's this double-edged sword where some people really find relief in having a diagnosis, and go, 'oh, it gives me some sort of language that this is what's going on with me and I have a path forward to treat it,' but that also limits people from wanting to seek out therapy." -Kyle

"The establishment wants us to think that they're keeping us safe so that they can continue to justify their existence. That's one of my reads. I understand how that's pretty cynical, but it's kind of the way it's been: 'Oh, you're smoking cannabis? We're going to put you in jail and take your kids away, because it's what's best.' That sounds like a nightmare, first off. And then secondly, where's your data? Where's your data that prohibition has ever worked? Ever, ever, ever?" -Joe
Links
Marijuanamoment.net: Maine Proposal Would Legalize Psilocybin Mushroom Therapy For Adults, No Medical Diagnosis Needed
Marijuanamoment.net: Maine Lawmakers File Bill To Decriminalize Possession Of All Drugs
Theyeshivaworld.com: Shock in Israel: Father Allegedly Murders Son While In "Psychotic Fit"
Nj.com: 12 N.J. breweries offer free beer to those who get COVID vaccine shots this month
Nytimes.com: A Psychedelic Drug Passes a Big Test for PTSD Treatment
Maps.org: MAPS' Phase 3 Trial of MDMA-Assisted Therapy for PTSD Achieves Successful Results for Patients with Severe, Chronic PTSD
The Neuroscience of Human Relationships: Attachment and the Developing Social Brain, by Louis Cozolino
Psychedelics Today: PT231 – Dr. Hassan Tetteh – Human Care Over Health Care
Saving Normal: An Insider's Revolt Against Out-Of-Control Psychiatric Diagnosis, DSM-5, Big Pharma, and the Medicalization of Ordinary Life, by Allen Frances, M.D.
The Wild Kindness: A Psilocybin Odyssey, by Bett Williams
Forbes.com: CEO Of $2 Billion Startup Fired After Experimenting With LSD At Work
Psychedelicinvest.com: 100 Most Influential People in Psychedelics
Psychedelicinvest.com: Creating a Sustainable Psychedelics Ecosystem (their follow-up)
Cnbc.com: FDA to propose ban on menthol-flavored cigarettes, with industry likely to challenge
---


Support the show!