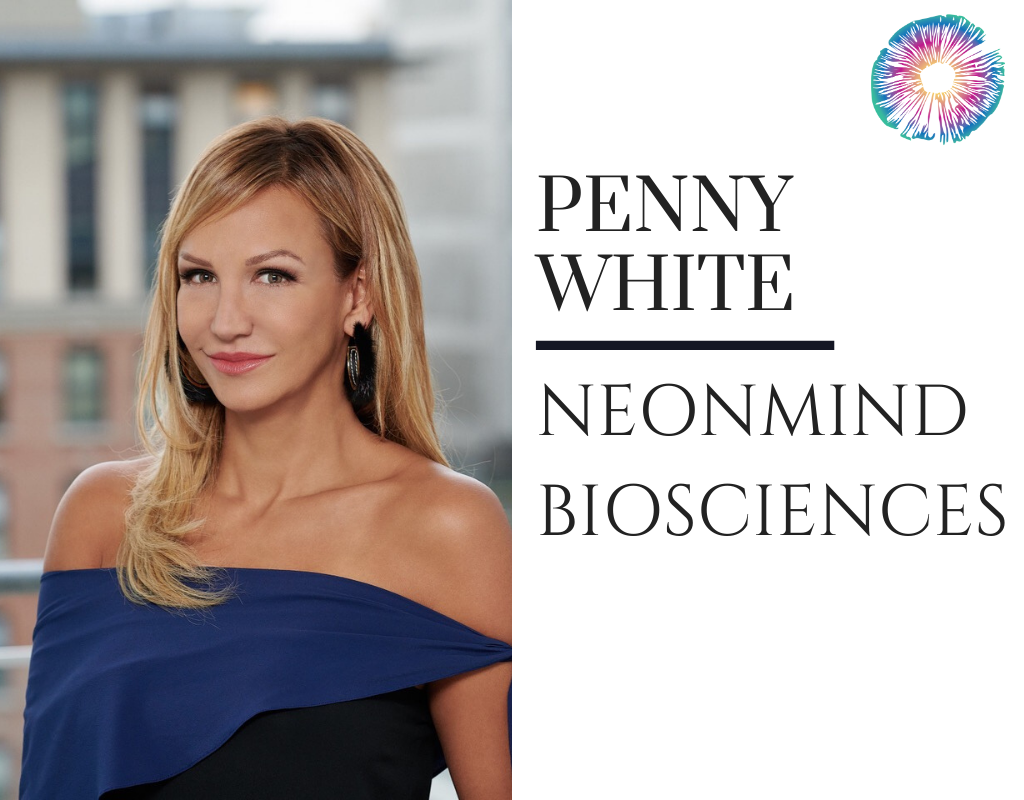 In this episode, Joe interviews Vancouver-based serial entrepreneur, co-founder, president, and CEO of Better Plant Sciences Inc., and founder and CEO of NeonMind Biosciences, Penny White. 
White works to take companies public, and was running Better Plant Sciences before creating NeonMind as a subsidiary, largely inspired by Michael Pollan and research by scientists at the University of British Columbia who were looking to treat addiction with CBD.  Now that NeonMind has successfully gone public (which just happened at the end of December), her goals with the company are to develop a protocol around using psilocybin to tackle obesity (they're in pre-clinical trials now and have 5 patents filed), to work more with medicinal mushrooms and sell products with proven health claims (they sell mushroom coffees now), and eventually get into work involving drug addiction and preventing the effects of Alzheimer's- also likely with psilocybin. 
This podcast feels like a meeting of 2 minds fully immersed in the psychedelic world having a bit of a check-in about where we find ourselves at the beginning of 2021. Among other topics, they talk about NeonMind's path, taking companies public, how cannabis and psilocybin are regulated in Canada, the benefits of being able to prescribe psilocybin, the worries of oversaturation in Oregon, and the complications of trying to make legal cannabis businesses work in federally-illegal land.
Notable Quotes
"It's cool for younger people who are coming of age and having money for the first time and deciding what to do with it, and people that are just interested in promoting things they believe in. It's an opportunity for people to say: 'I love the idea of psychedelics becoming legal or becoming available as drugs to help humanity, and so I'm going to buy some of this stock.' It's empowering in a way."

"We may end up doing some compound work. We may end up looking at other mushrooms and maybe combining more than just one compound- psilocybin maybe being the key compound. So we're still at the early stages of what we're doing, but by no means would we ever have any kind of monopoly on the use of psilocybin. I mean, it's a plant, right?" 
"There's a lot of people who really very religiously rely on the advice of their doctor, and for them, health is going to your doctor and doing what your doctor says. And so, a lot of people won't have access to alternative medicines unless they're prescribed by their doctor. I think those people are going to benefit the most from a drug that contains psilocybin that can be prescribed." 
"I'm still very, very interested in drug addiction and how psychedelics can help people get off drugs, and so, if I come across any companies that are focused on this, any clinical work- if I can get involved in that or help in any way, to be a co-sponsor, something like that- that would be something I'd be really interested in." 
Links
Finance.yahoo.com: NeonMind Announces Closing of Oversubscribed Initial Public Offering and Exercise in Full of the Agent's Over-Allotment Option
---
About Penny White
Penny is a serial entrepreneur with over two decades of experience building companies. She was recognized in PROFIT Magazine's W100 most successful entrepreneurs and her private company was included in PROFIT 500 Fastest-Growing companies in 2015 and 2016. She is also Co-founder, President and CEO of Better Plant Sciences Inc. (CSE: PLNT, OTCQB: VEGGF). She was an initial officer and director for 2 years at Merus Labs Inc. (TSX: MSL), a speciality pharmaceutical company focused on acquiring and optimizing legacy and growth products, which was acquired by Norgine B.V. for $342 million in 2017.


Support the show