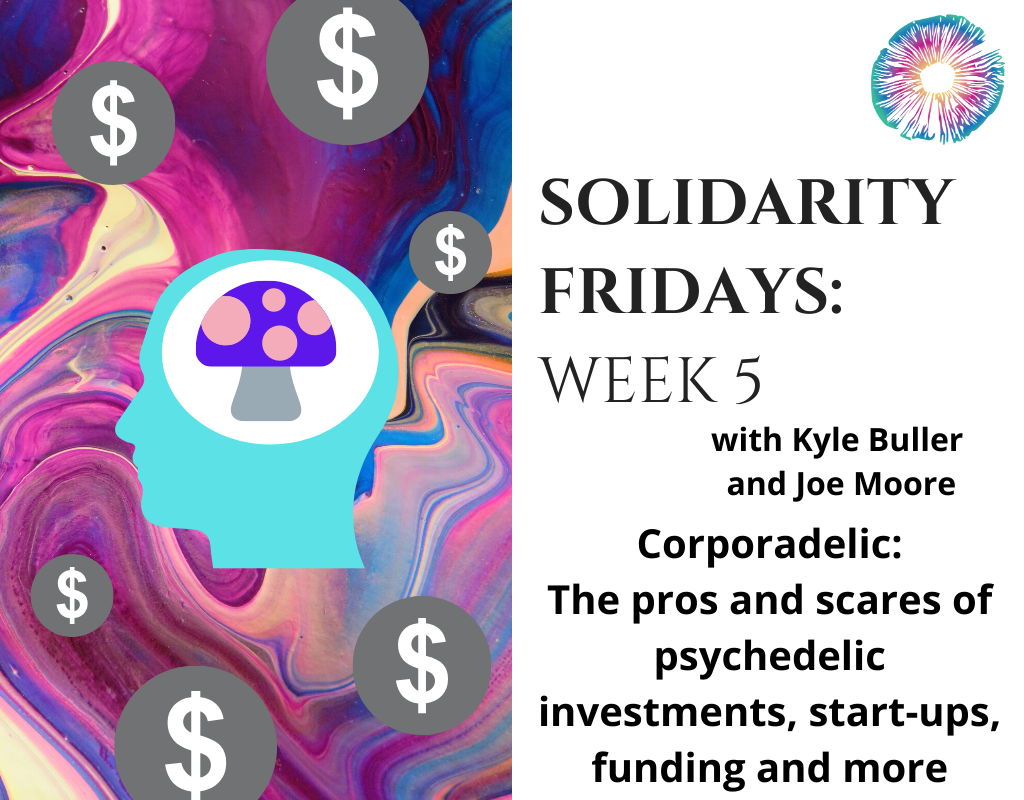 In today's Solidarity Friday's Episode with Kyle and Joe, they talk mostly about Corpora-delic, companies and wealthy individuals investing in the psychedelic industry.
---
Show Notes
The company is valued at 111 million

The CEO, Jason Hobson says, "The current health pandemic has resulted in a societal shift in the way we think about our health and the importance of access to treatment, both physical health and mental health. Ei.Ventures believes this is the right time to lean into mental health issues such as mood disorders and addiction, and eventual access to therapeutic treatments from innovations in botanical compounds that have been around for thousands of years."
Joe and Kyle say that there is so much money coming in, and it worries the psychedelic community because they aren't used to seeing capitalism
Joe says that he hopes that some patents don't equate to ruining access
"Are these companies going to bully the smaller organizations out of existence so that diversity doesn't really exist in the way we think it should?" – Joe
Medical is a great model, but it should be reduced to that only
Kyle says the sacred-ness feels like it may be taken away, and big companies just look at it as a commodity
"Not everyone sees this opportunity for entrepreneurship as a good thing. For researchers looking into the efficacy of psychedelics for therapeutic purposes, these substances are far more than a market opportunity—they're potentially life-saving medications. And after decades of prohibition, psychedelics are just barely gaining mainstream acceptance.' – from the article

People are bold enough to stand up to companies they don't agree with
It's no joke how much money was spent on making Tim Leary look bad
The Defense Advanced Research Projects Agency (DARPA) is launching a new drug program for treating soldiers with PTSD, depression, anxiety, and drug addiction, and it is drawing inspiration from psychedelic research.

Kyle mentions that this is tricky, its both a biochemical and experiential thing
Will eliminating the hallucinations ruin the experience?

Joe says that there are some people that are so unstable that a psychedelic experience can be really a lot
Joe also says that there arent alot of drugs that their use needs to be supervised (medically) and psychedelics are some of them
Joe recorded with Erica Darragh from Sunrise Movement
Their talk was about how climate justice could end the drug war

They talked about more equitable ways of including people of less power, influence or privilege into the world of psychedelics

The more ahead we are of the government, the more likely we are to influence policy, Joe says it's best to just stay informed
If we aren't coming from psychedelic values when bringing these substances into the mainstream, then what are we doing?
What are psychedelic values?

Valuing the planet, valuing your place in the planet, a sense of connection, cooperation vs. competition, how do we honor a lineage or where these medicines come from? these could be some psychedelic values

Following the permaculture principles and applying them to life is a great tool for systems thinking
---
About Kyle
Kyle's interest in exploring non-ordinary states of consciousness began when he was 16-years-old when he suffered a traumatic snowboarding accident. Waking up after having a near-death experience changed Kyle's life. Since then, Kyle has earned his B.A. in Transpersonal Psychology, where he studied the healing potential of non-ordinary states of consciousness by exploring shamanism, plant medicine, Holotropic Breathwork, and the roots/benefits of psychedelic psychotherapy. Kyle has co-taught two college-level courses. One of the courses Kyle created as a capstone project, "Stanislav Grof's Psychology of Extraordinary Experiences," and the other one which he co-created, "The History of Psychedelics."
Kyle completed his M.S. in clinical mental health counseling with an emphasis in somatic psychology. Kyle's clinical background in mental health consists of working with at-risk teenagers in crisis and with individuals experiencing an early-episode of psychosis. Kyle also facilitates Transpersonal Breathwork workshops.
About Joe
Joe studied philosophy in New Hampshire, where he earned his B.A.. After stumbling upon the work of Stanislav Grof during his undergraduate years, Joe began participating in Holotropic Breathwork workshops in Vermont in 2003. Joe helped facilitate Holotropic and Transpersonal Breathwork workshops while he spent his time in New England. He is now working in the software industry as well as hosting a few podcasts. Joe now coordinates Dreamshadow Transpersonal Breathwork workshops, in Breckenridge, Colorado.
---
Support the show
Leave us a review on iTunes
Share us with your friends – favorite podcast, etc
Join our Facebook group – Psychedelics Today group – Find the others and create community.