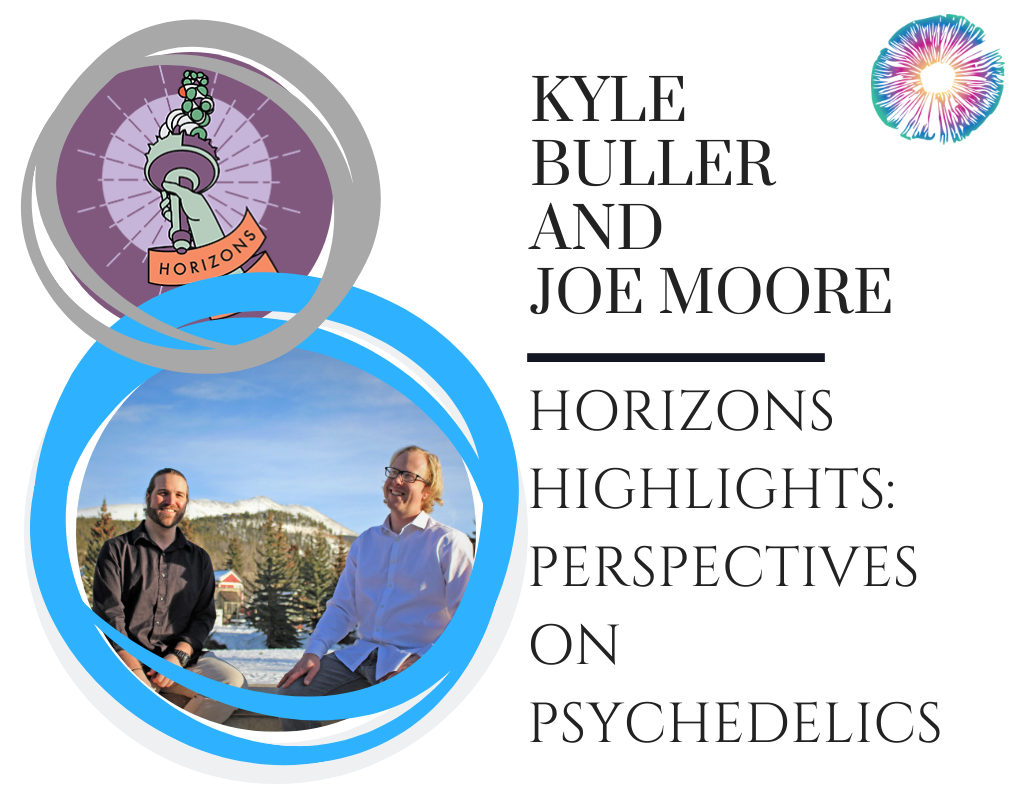 In this episode, Joe and Kyle sit down to cover highlights from the Horizons Conference. In the show, they discuss the presentations and topics they heard at the conference.
3 Key Points:
Joe and Kyle attended Horizons: Perspectives on Psychedelics Conference in NYC, it is a forum that examines the role of psychedelic drugs and plant medicines in science, medicine, culture and spirituality.
Carl Hart gave a compelling talk; Dispelling the Lies that the Psychedelic Community believes about Drugs. Greater than 80% of the effects of drugs used are positive.
Another popular topic was on the economics around psychedelics, and discussion on companies trying to monopolize on psychedelics.
---


Support the show
Leave us a review on iTunes

Share us with your friends – favorite podcast, etc

Join our Facebook group – Psychedelics Today group – Find the others and create community.
---
Show Notes
Horizons
Kyle mentions he loves to attend because it's a great social event to connect with others interested or involved in the psychedelic field
Kyle says the videos of the talks from the conference will be released soon
They presented neuro-imaging data
5-MEO-DMT
Dr. Alan Davis did a talk on 5-MEO-DMT and its challenges

People have a hard time letting go into the experience because its so fast and overwhelming

He talked about a term, reactivation, similar to flashbacks that happen between 1-2 weeks after the experience

People were reporting it as positive experiences, 80% of people enjoyed the reactivations

He did say that there were some bad players in the 5-MEO-DMT space

There is no control in the dosing in underground facilitation
A lot of people eyeball their dosage in 5-MEO-DMT
Joe suggests to buy a milligram scale
Carl Hart did a talk; Dispelling the Lies that the Psychedelic Community believes about drugs

Greater than 80% of the effects of drugs used are positive

PCP is a psychedelic drug, but the psychedelic community chooses not to own it
Ketamine was derived from PCP
Hamilton Morris said that no drug is bad, it comes down to the dose and how its being used

Poison can be a medicine, and medicine can be a poison, it all depends on dose

No drug should be illegal, drug scheduling should just go away
Some states are starting to ban private prisons
Joe says the drug war is the war on race, the war on class, etc

Joe suggests looking up the Portugal drug law; less overdoses, less HIV, less incarceration, etc

Kyle mentions that in some cultures they would drink alcohol to get into a trance state and dance around all night and then chill for 3 days afterward because they would all be recovering from the hangover
Talks and Topics
Shelby and Madison, co founders from Doubleblind Magazine did a talk
Fiona Misham did a talk on the use of psychedelics for festivals and fun

She talked about having on-site drug testing facilities and how they heighten safety
In 2018 in Europe the MDMA contents were tested at 168milligrams
1 in 5 substances are mis-sold
1 in 20 MDMA samples were long lasting N-ethylpentylone, a drug that keeps you up for 3 days straight

There was also an Economics panel

Kyle says it was a heavy and hot debate
There was a lot of conversation on companies making money on psychedelics
There was worry from some on Compass Pathways monopolizing on psychedelics
Kyle says big and fast growth can be dangerous for mental health
It's possible that these companies will just push for results to pay off the investment than to really take the time to have slow meaningful sessions and include the therapeutic model
When therapists have more congruence with their client, they get better results
Links

About Kyle
Kyle's interest in exploring non-ordinary states of consciousness began when he was 16-years-old when he suffered a traumatic snowboarding accident. Waking up after having a near-death experience changed Kyle's life. Since then, Kyle has earned his B.A. in Transpersonal Psychology, where he studied the healing potential of non-ordinary states of consciousness by exploring shamanism, plant medicine, Holotropic Breathwork, and the roots/benefits of psychedelic psychotherapy. Kyle has co-taught two college-level courses. One of the courses Kyle created as a capstone project, "Stanislav Grof's Psychology of Extraordinary Experiences," and the other one which he co-created, "The History of Psychedelics."
Kyle completed his M.S. in clinical mental health counseling with an emphasis in somatic psychology. Kyle's clinical background in mental health consists of working with at-risk teenagers in crisis and with individuals experiencing an early-episode of psychosis. Kyle also facilitates Transpersonal Breathwork workshops.
About Joe
Joe studied philosophy in New Hampshire, where he earned his B.A.. After stumbling upon the work of Stanislav Grof during his undergraduate years, Joe began participating in Holotropic Breathwork workshops in Vermont in 2003. Joe helped facilitate Holotropic and Transpersonal Breathwork workshops while he spent his time in New England. He is now working in the software industry as well as hosting a few podcasts. Joe now coordinates Dreamshadow Transpersonal Breathwork workshops, in Breckenridge, Colorado.