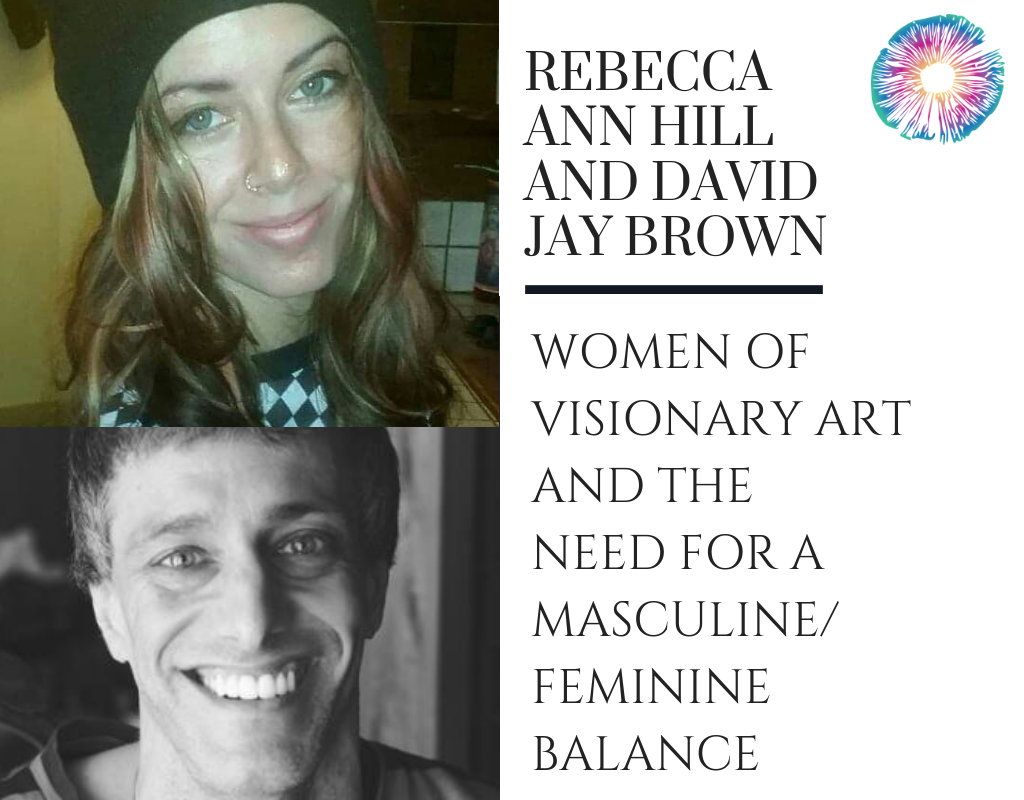 In this episode, Kyle and Joe host Rebecca Ann Hill and David Jay Brown, Authors of the book, Women of Visionary Art. The book showcases the work and inspiration of female artists such as Josephine Wall, Allison Grey, Amanda Sage, Martina Hoffman, Carolyn Mary Kleefeld and many others.

3 Key Points:
Rebecca Ann Hill and David Jay Brown are co-authors of the book, Women of Visionary Art, which includes discussions with 18 female artists.
The book and the episode are an exploration of the role that dreaming, psychedelic experiences, and mystical visions play in visionary art.
There is a strong need for a balancing of masculine and feminine energies. Females tend to be more nurturing and more cooperative, and it's exactly the factors that are missing in our current world and are causing problems of greed.
---


Support the show
Leave us a review on iTunes

Share us with your friends – favorite podcast, etc

Join our Facebook group – Psychedelics Today group – Find the others and create community.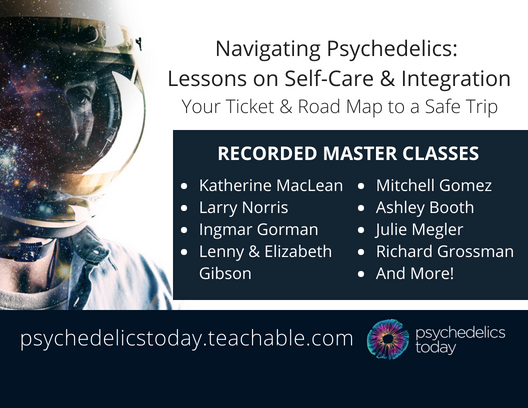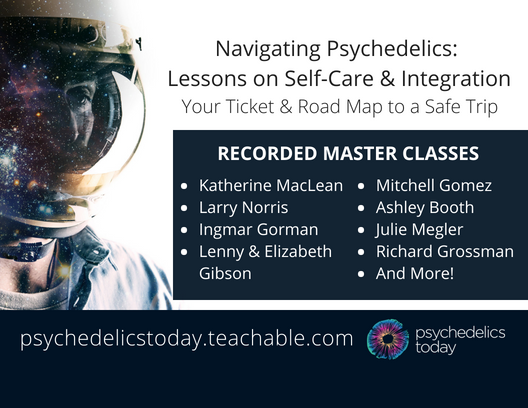 ---
Show Notes
About David
David's background is in Psychobiology, the interface between psychology and biology
He spent 10-15 years working in neuroscience and research labs

His interest in Neuroscience came from his experience as a teenager, experimenting with psychedelics

He wrote his first book, The Science of Psychedelics, about 10 years ago
David mentions that the psychedelic renaissance has allowed him to write openly about psychedelic topics that he's been preparing his whole life researching for
About Rebecca
aka Molly Moon Sparkles
She has a huge creative drive
She is currently studying psychology and is playing in the art program
She is fascinated by entheogens, plant medicines and psychedelic compounds
She is a painter and is working on the Molly Moon Magick Series that focuses on the divine feminine
She wrote and illustrated the book Ecstatic Love, Lost Dreams and Mystic Visions
Psychedelics and Creativity
Putting the Book Together
David was so fascinated with the visions he would see on psychedelics and wished that he had the talent to portray it through artwork, and then he began to see artists bring these visions to life
He also saw a lot of gender inequality, that there were more men than women in the visionary art space

It urged him to highlight the under recognized women in visionary art

Rebecca was experimenting with other realms with plant medicines and psychedelic compounds

She says her consciousness was so drastically different from any other time in her life, and she started painting her psychedelic experiences
This led her to begin building community with other artists who shared the same 'vision' as her
She said that the psychedelic experience has so much feminine nature to it that wasn't being voiced
"We are going through a serious ecological crisis right now and the teachings behind the psychedelic experience is to heal the collective and help climate change" – Rebecca

Stanley Krippner conducted a survey of artists and psychedelics
The Imbalance of Masculine and Feminine
There is an uprising of feminism with the "Me Too" movement, women in congress, women's marches
Our species has been so dominated by men and we need the nurturing and caring aspects of the feminine perspective
Surprising Aspects of the Women
The most surprising aspect is how much in common the women had
David says it was beautiful how well each artist was connected to each other through their stories
Laura Holden is completely self taught
There were two women from the book that had never touched a psychedelic substance

They were inspired through dreams and daydreams

The psychedelic experience not only inspires the artwork, but it creates a new way of viewing artwork
Kyle mentions that he always wished he could record his dreams

Joe says he has been seeing research around capturing visual or imagined imagery
Discovering the Artists
David discovered most of the artists that he had not previously known through the community Rebecca had been a part of as visionary artists
COSM and Entheon
August 3rd, Rebecca and David are giving a presentation as COSM in New York
Entheon, the Sanctuary for Visual art may be open by them

Entheon will have workshops, painting classes, rooms to stay in, full moon ceremonies, etc.
It will be an art sanctuary, a church with a spiritual and psychedelic essence

Visionary art is getting into museums and becoming a recognized art form
The Desperate Need for Balance
Terrence McKenna told David that early on in human civilization, men didn't understand the role that sex had in creating babies

The power of reproduction was within women and sex was something else
Once men began thinking that they were responsible for the generation of life, they starting saying its "my baby" its "my wife" instead of 'our' baby or the community's baby. It kept developing into "my child" into "my country", "MY".
Then people started using less psychedelics and started consuming more alcohol and now everything is an over exaggerated male dominance
"Females tend to be more nurturing and more cooperative, and it's exactly the factors that are missing in our current world and are causing problems of greed. It could be balanced and harmonized with more feminine energy." – David

There is a crucial imbalance from male and female in history alone

But more than an imbalance between just males and females, it's about an imbalance of masculine and feminine energies
Each of us, male and females have both a masculine and feminine energy
We can see the masculine and feminine imbalance in the world and our planet right now. We don't need to shift to a goddess worshiping planet, but we just need to be back in balance and bring more feminine energy of nurturing and compassion and caring and healing

Penny (an artist highlighted in the book) mentions about Sandos giving LSD to researchers who gave it to artists
Getting Involved
"If you want to get involved in painting, dancing, making jewelry, clothing, gardening, don't wait. Do it. If you are true to yourself and your own inner visions, you will succeed" – Rebecca
One thing all artists have in common is fear and insecurity, so you can't let it hinder you from beginning
Final Thoughts
Artists like Android Jones are doing visionary artwork in virtual reality mediums
David thinks visionary artwork will become only even more interactive and immersive spaces
We need to find a more yin-yang balance between masculine and feminine
Links
Women of Visionary Art (Amazon)
Women of Visionary Art (Inner Traditions)
David's Site
Rebecca's Site
MollyMoonSparkle blog
---
About Rebecca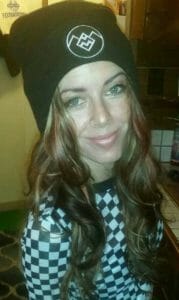 Rebecca Ann Hill (AKA Molly Moon Sparkle), is a visual artist with a wide range of experience in different creative mediums. She is the co-author and illustrator of "Ecstatic Love, Lost Dreams & Mystic Visions", as well as "Women of Visionary Art." Primarily a painter, she is creating a new series entitled "Molly Moon Magick," and her other projects include dancing with "Gold Town Burlesque," writing a blog -"Go Ask Molly"- and working on a new book about her spiritual awakening.
About David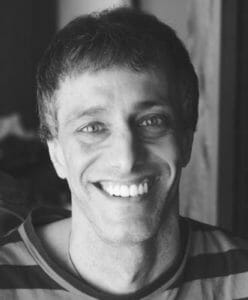 David Jay Brown is the author of Dreaming Wide Awake: Lucid Dreaming, Shamanic Healing and Psychedelics, and The New Science of Psychedelics: At the Nexus of Culture, Consciousness, and Spirituality. He is also the coauthor of five other bestselling volumes of interviews with leading-edge thinkers, Mavericks of the Mind, Voices from the Edge, Conversations on the Edge of the Apocalypse, Mavericks of Medicine, Frontiers of Psychedelic Consciousness, and of Women of Visionary Art. Additionally, Brown is the author of two science fiction novels,Brainchild and Virus, and he is the coauthor of the health science book Detox with Oral Chelation. Brown holds a master's degree in psychobiology from New York University, and was responsible for the California-based research in two of British biologist Rupert Sheldrake's books on unexplained phenomena in science: Dogs That Know When Their Owners Are Coming Home and The Sense of Being Stared At. His work has appeared in numerous magazines, including Wired, Discover, and Scientific American, and he was the Senior Editor of the special edition, themed MAPS (Multidisciplinary Association for Psychedelic Studies) Bulletins from 2007 to 2012. In 2011, 2012, and 2013 Brown was voted "Best Writer" in the annual Good Times and Santa Cruz Weekly's "Best of Santa Cruz" polls, and his news stories have been picked up by The Huffington Post and CBS News.