In this unique episode, Joe brings Tom Hatsis and Dr. Jerry Brown together for a psychedelic debate. They go back in forth in conversation on whether there was psychedelic use in medieval or ancient Christianity and if so, was there a secret tradition of including art of mushrooms or psychedelic substances in cathedrals and castles.

3 Key Points:
Jerry Brown makes the claim that there is evidence of visionary plants in Christianity and the life of Jesus found in medieval art and biblical scripture.
Tom Hatsis makes the claim that Christianity is not hiding a giant secret inside the biblical texts about the true hallucinogen at the root of the religion being an Amanita Muscaria.
Jerry and Tom debate back and forth, pulling from art and textual evidence (and lack thereof) to support or deny the claim that Psychedelic Mushrooms are the root of Christian religion.
---


Support the show
Leave us a review on iTunes

Share us with your friends – favorite podcast, etc

Join our Facebook group – Psychedelics Today group – Find the others and create community.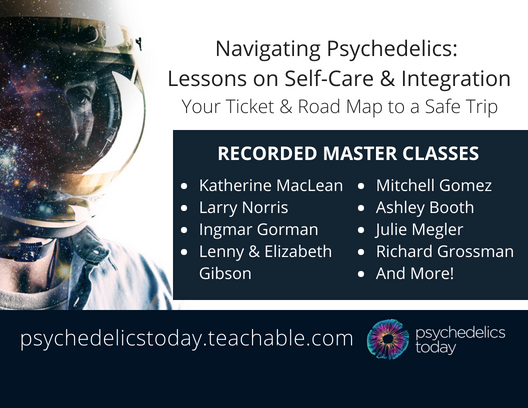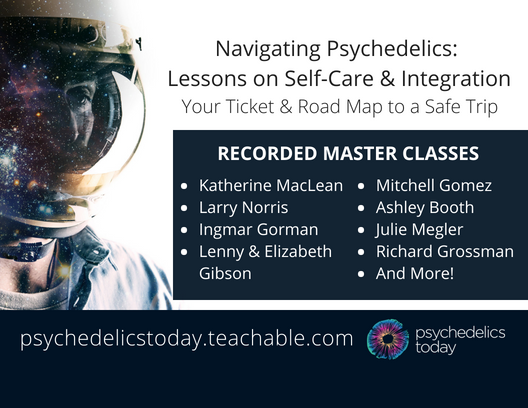 ---
Show Notes
Jerry B. Brown PhD.
Anthropologist, Author and Activist
Served as the Prof of Anthropology at FIU in Miami
He designed and taught a course on hallucinogens and culture
He is the Co-Author of Sacred Plants and the Gnostic Church: Speculations on Entheogen use in Early Christian Ritual
The Psychedelic Gospels: The Secret History of Hallucinogens in Christianity
Tom Hatsis
Author, Public Speaker, Roller Derby Player and Potion Maker
He is the Author of three books in Psychedelia;
The Witches Ointment: the Secret History of Psychedelic Magic
Psychedelic Mystery Traditions; Spirit Plants, Magical Practices and Psychedelic States Microdosing Magic: A Psychedelic Spellbook
Partnered with event organizer and short film maker, Eden Woodruff, who runs Psanctum Psychedelia in Portland in the process of winning the Guinness Book of World Record in Magic
Intro
The debate is around the early Christian use of psychedelics and mushrooms in Christian art
The conversation is on the validity on whether or not psychedelics were used in early Christianity
Dr. Jerry Brown on Psychedelics in Christianity
The Miracle of Marsh Chapel – a double-blind experiment conducted by Walter Pahnky in 1962 where 20 students were divided into two groups, half received niacin and the other half received psilocybin

9 out of 10 who took psilocybin had a profound psychedelic experience
Brown explains that this is an important part in the entire history of psychedelics

After discovering the Amanita Muscaria mushroom (confirmed by Paul Stamets) in a 15th Century Church in Scotland, he realized that there were many entheogenic images in Christian art
He says that most church historians do not have training in mycology to recognize entheogens and mushrooms
He brings up an image of Adam and Eve standing next to a large Amanita Muscaria mushroom
He went to a Parish Church and saw an image of Jesus entering Jerusalem on a Donkey, and one of the youths welcoming Jesus is holding a long mushroom cap
He went to churches in England, Germany and France

In the drawing of Genesis, he saw God creating plants (psilocybin mushrooms)

"When you go back beyond the 3rd century, there are no visual images or Christian art due to poverty and persecution" – Jerry
Jerry reads a passage,
"Jesus said to his disciples, "compare me to someone and tell me who I am like" Thomas said to him, "Master, my mouth is wholly incapable of saying whom you are like." Jesus said "I am not your master, because you have drunk you have become intoxicated from the bubbling wellspring that I have personally measured out. He who will drink from my mouth will become like me, I shall become like he, and the things that are hidden, should be revealed to him."

He interprets the passage as a reference to drinking a psychoactive mushroom substance
Jerry goes on to explain that Jesus realized his feeling of eternal life through the use of psychoactive entheogens
He says that this is not a means of dismissing Christianity, but instead to reintroduce Christianity with its original roots
Tom Hatsis on Psychedelics in Christianity
Tom says that Jerry makes a lot of assertions, but does not present any evidence. He talks about art, but not anything in scripture
Tom is curious why the only artwork that Jerry brings his assertions about mushrooms are from a time where we can't ask them about it
Tom brings up Julie and Jerry's book and that the first chapter has nothing to do with Christian History at all
Tom uses an example of stone mushrooms. Someone doing a cross cultural analysis, might agree that they are mushrooms based on the other findings of cannabis and opioids

But, as a historian, Tom looks for evidence and in this case, there are eye witness accounts of its use

He brings up the example, the infamous plaincourault fresco of Adam and Eve at the tree of good and evil with the forbidden fruit

Using this one example, he wants to prove how critical historical methodology is used to prove unsubstantiated claims on Christian art as wrong
Tom urges listeners to view the unaltered versions of the plaincourault fresco at Georgio Samorini's Flikr page 
The paradise tree is a mix of the tree of knowledge of good and evil and a symbol of Christ's victory over Adam's transgression. In the play, it was tradition to place small Eucharist wafers on the tree branches so that's what the white dots are on the tree branches
The tree's shape is not a mushroom cap, it is a parasol of victory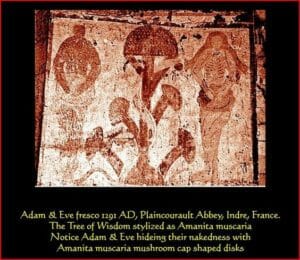 Jerry's Rebuttle
Jerry says that the absence of evidence, is not equal, or proof of evidence of absence (just because it's not written in text, doesn't mean that its not there in the art)
Jerry's issue with the fresco is that "The Fall" is a New Testament creation, not all the way back in Genesis
He says that on their website, they do not 'alter' the image, they 'enhance' it
He says that Tom claims the fruit doesn't matter, but the fruit does matter (it could be a psychedelic mushroom)
He touches on the skeletal appearance of Eve and the meaning of renewal of life
Jerry thinks this image is the beginning of the religious experience and symbolism that the soul is immortal and will continue to exist after death
He says the serpent is not a depiction of evil entering Eden, but instead a source of knowledge and a spiritual guide to the feminine to help bring man into higher awareness
Tom's Rebuttle
Tom says he didn't hear any evidence from Jerry, he heard arguments to authority
He says that Jerry uses anthropology to uncover history, and opinions of art historians, but medieval historians agree that the mushroom is not present in Christian art
He also says he did agree with Jerry about the mushroom in art, but that was last year and he has proven himself wrong and that the mushroom caps are parasols of victory
Jerry says that Amanita Muscaria was in the Soma, but Tom says cannabis was, and mushrooms were not
Chris Bennett's book on Soma
There is zero evidence for mushroom art during medieval times
In Jerry's book, he writes about the Basilica di Aquilea, saying that they are Amanita Muscaria, but Tom says they are not that type of mushroom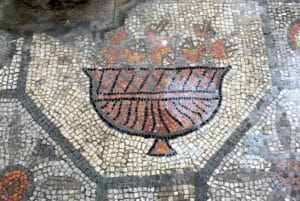 Tom also says that in the play depicted in the plaincourault, that the script literally says the wafers are hung on the tree, and that the little white dots are not the dots from an Amanita Muscaria
Jerry's Closing Remarks
He says that this isn't just cultural analysis, this is about fieldwork and looking at how native people view this artwork
The problem he has with Tom and Church historians is that it is not taking evidence from Ethnobotanists
Jerry says he believes that there is a long tradition of entheogenic mushrooms in Christian art and would like this debate to continue
Tom's Closing Remarks
Tom says he still isn't hearing evidence, he is only hearing assertions and argument to authority and eminent scholars
Tom says that Genesis doesn't matter in the plaincourault, because we know that it's about the play
He has multiple articles debunking these images on his website
Tom says the holy mushroom hypothesis fails against all the claims Jerry has made
Links
Check out our online course, "Introduction to Psychedelics"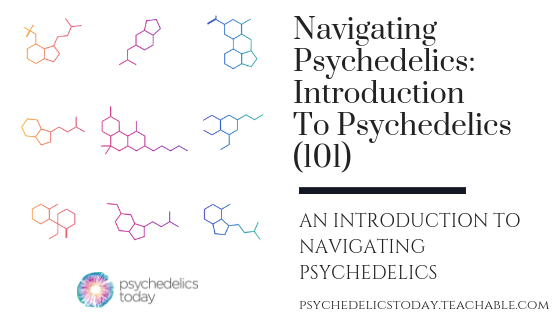 ---
About Jerry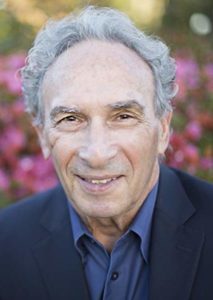 Jerry B. Brown, Ph.D., is an anthropologist, author and activist. From 1972-2014, he served as Founding Professor of Anthropology at Florida International University in Miami, where he designed and taught a course on "Hallucinogens and Culture." The course examines the use of psychoactive plants by tribal and classical cultures, including Ancient India and Greece, and by and discusses the discoveries of the modern mind-explorers, the "psychonauts of the twentieth century."

About Tom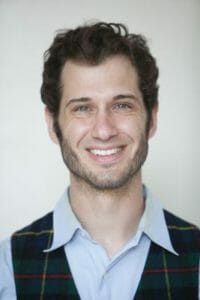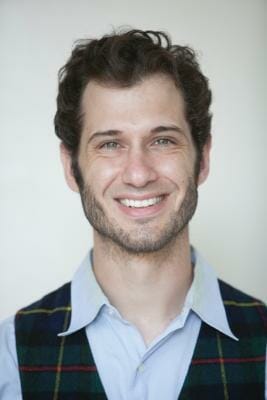 Thomas Hatsis is an author, lecturer, and historian of witchcraft, magic, Western religions, contemporary psychedelia, entheogens, and medieval pharmacopeia. In his spare time he visits rare archives, slings elixirs, and coaches roller derby.