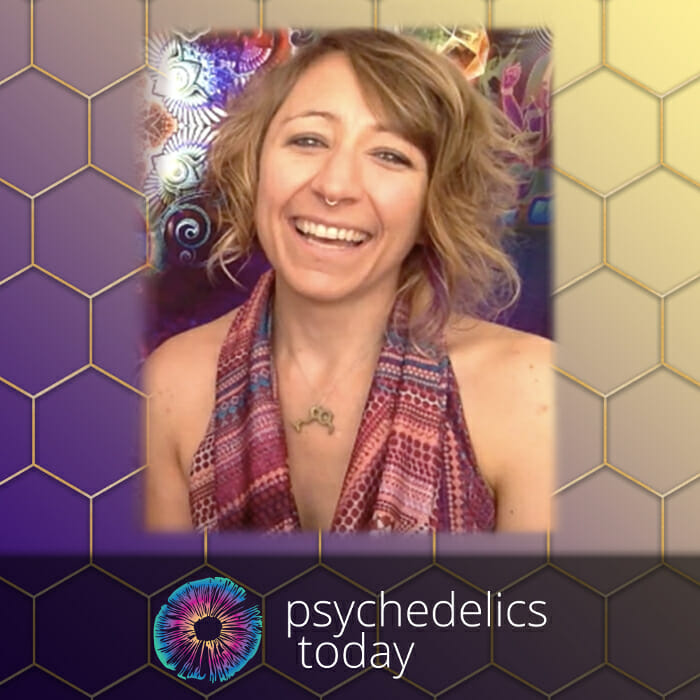 Download

Ashley Booth
This week we talk with Ashley Booth, co-founder of InnerSpace Integration and founder of the Aware Project: Rethinking Psychedelics. Ashley shares with us how she went from being an oceanographer to starting a psychedelic community in the Los Angeles area and also pursuing psychedelic research. We talk about how the formation and history of both the Aware Project and InnerSpace Integration, and the importance of building a psychedelic community.
We also talk about Ashley's background in somatic practices such as Hakomi and how Hakomi can be used for integration as well as in the psychedelic space. Body psychotherapy seems to be a tool of the future for many psychotherapists who are interested in psychedelics and psychedelic research as normal talk therapy does not always address some of the underlying issues that are stored within the body.
Other Show Topics
Non-visual experiences with Aya
Not getting caught up in the story.
Burning Man
Integration groups/networks
Tips on getting involved in the field
---
[youtube https://www.youtube.com/watch?v=TsTxzEB-XA0]
---
Ashley Booth Show Notes/Links
---
[youtube https://www.youtube.com/watch?v=5aq_cOMsyik]
---
About Ashley Booth, M.S.
Ashley Booth, M.S. is a scientist, philosopher, and psychedelic ambassador. After years of working in environmental science, she experienced a radical paradigm shift through the use of psychedelics which ignited a passion for the awakening of human consciousness. Ashley uses her scientific background to break through the "war-on-drugs" rhetoric and have an intelligent and scientifically-based conversation about the safety and use of psychedelic substances. Ashley is the founder of the Aware Project: Rethinking Psychedelics (awareproject.org), which hosts educational and community-building events in Los Angeles and San Diego, California. She is also a co-founder of the InnerSpace Integration (innerspaceintegration.com), a psychedelic integration support service and harm reduction organization in Southern California. For a year and a half, she worked as a psycho-spiritual coach at Crossroads Treatment Center, supporting people through ibogaine and 5-MeO-DMT experiences. She is a certified Kundalini yoga teacher and is currently training in a somatic psychotherapy approach known as the Hakomi Method. www.AshleyBooth.net
---
Header Photo: https://www.instagram.com/scarlet.barnett/
---
Check out our upcoming course, "Navigating Psychedelics: Lessons on Self-Care & Integration." Sign up Today!