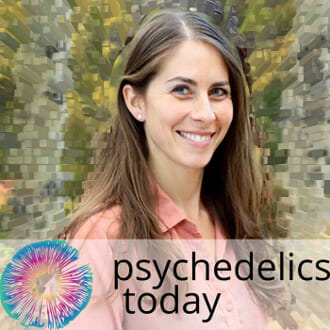 Download
Sara Gael joins us on this week's episode. Sara is the Director of Harm Reduction at the Zendo Project. We get into some great stuff including some of Zendo's biggest wins, how Zendo works, how to discuss harm reduction with festival organizers, and how to manage difficult experiences that arise in the Zendo.  Something interesting that we learned during this talk was how law enforcement at Burning Man has really been interested in learning more about Zendo and their services, and requested Zendo to help train their staff.
Sara also shares her experience and insights working on the MAPS Phase 2 MDMA-assisted psychotherapy for PTSD trials and how she got involved in psychedelic research. We also explore how transpersonal psychology can serve as an important framework for working with psychedelic experiences.

We hope you enjoy this episode. Be sure to leave us a comment below and share this episode!
---
The Zendo Projec
t is sponsored by the Multidisciplinary Association for Psychedelic Studies (MAPS). Zendo provides harm reduction services to the community and to festivals.
Zendo
strives to:
Reduce the number of psychiatric hospitalizations and arrests.
Create an environment where volunteers can work alongside one another to improve their harm reduction skills and receive training and feedback.
Demonstrates that safe, productive psychedelic experiences are possible without the need for law enforcement-based prohibitionist policies.
---
Show Notes/Link
---
Sara Gael, M.A., Director of Harm Reduction, Zendo Project

Sara received her Master's degree in Transpersonal Counseling Psychology at Naropa University. She began working with MAPS in 2012, coordinating psychedelic harm reduction services at festivals and events worldwide with the Zendo Project. Sara was an Intern Therapist for the recently completed MAPS Phase 2 clinical trial of MDMA-assisted psychotherapy for PTSD in Boulder, CO. She maintains a private practice as a psychotherapist specializing in trauma and non-ordinary states of consciousness. Sara believes that developing a comprehensive understanding of psychedelic medicines through research and education is essential for the health and well being of individuals, communities, and the planet.
Community is an important part of integration. One of the most difficult aspects of integration is returning to a society that doesn't understand or support psychedelic exploration. In fact, re-entering society can feel like a stark contrast between the interconnected, transpersonal state of the psychedelic experience. Therefore, one of most important tools for successful integration is a supportive, understanding community. We encourage our Guests to connect with and build supportive communities around themselves when they return home from the event. We support them in seeking professional help if necessary.

-Sara Gael, Zendo Project Coordinator
source
Sara Gael – Links
Sara's Professional Practice site – Re-membering

Sara's Profile on Psychology Today
Mikedelic Podcast – October 5, 2016 
Understanding and Working with Difficult Psychedelic Experiences – MAPS Bulletin
Entheogen Show – Psychedelic First Aid 
---
Be sure to check out our upcoming course: Navigating Psychedelics